"Out" prevailing over "Remain" in Brexit as immigration displaces economy as center of debate
Tuesday, June 7th 2016 - 08:29 UTC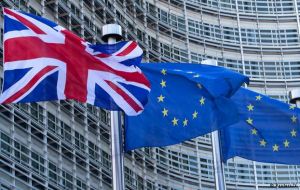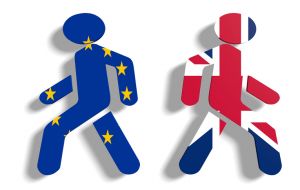 The campaign for Britain to leave the European Union has taken a 4-5 percentage point lead ahead of a June 23 referendum, according to online polls by ICM and YouGov, sending sterling towards three-week lows against the U.S. dollar.
The swing towards "Out" with less than three weeks to go comes as both sides step up their campaigning to try to win over the large number of still undecided voters with warnings over the economy and immigration.
The ICM poll of 1,741 people taken June 3-5 showed 48% would vote to leave, up from 47% a week earlier, while 43% would opt to stay, down 1 percentage point from a week earlier.
The YouGov poll of 3,495 people on June 1-3 showed 45% would opt to leave the EU, up from 40% in a comparable poll a month earlier, while 41% would opt to stay, down from 42%. The poll showed 11% of voters were still undecided, down 2 percentage points from a month earlier.
Of the eight most recently published surveys, one opinion poll was tied, two showed In ahead and five have showed Out in the lead, including a TNS online poll published on Monday and two previous ICM polls published last Tuesday.
"There has been a couple of polls in a row all showing movement towards Leave - I suppose there might be finally some movement in the race," Anthony Wells, director of political research at YouGov, said.
"ICM's weekly tracker and indeed at least two other polls published in the last 24 hours, suggest a move to Leave might have occurred," Martin Boon, director of research at ICM Unlimited, said in a statement.
Sterling fell below US$1.44. The pound fell 0.9% to US$1.4371, having traded at US$1.4441 before the latest ICM poll was published. It had hit a three-week low of US$1.4352 in early Asian trade.
Wells said the so-called "Purdah" period which has prevented civil servants from making interventions in the referendum campaign since May 27 may have given Out campaigners such as Boris Johnson the space to push their arguments on immigration.
"The assumption is that immigration has sort of cut through from the Leave campaign," he said. "My best guess is that Purdah has allowed Leave to get into the argument and dominate when previously Remain had been dominating and pushing the argument onto the economy."
Immigration dominated last week's campaign after official figures showed net migration into Britain running at its second highest level, despite pledges by Prime Minister David Cameron to bring the numbers down.