Brazilians want fresh elections; 62% believe Rousseff's impeachment was the right decision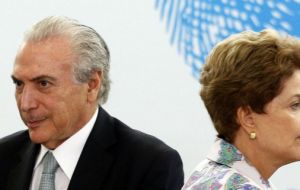 The government of Interim President Michel Temer has a low approval rating among Brazilians and a majority of the country wants new elections to be held this year, according to a poll released on Wednesday.
Almost one month after taking over from suspended President Dilma Rousseff, Temer's government has a negative rating from 28% of Brazilians, according to the CNT/MDA poll. Only 11.3% give it a positive rating, while 30.2% find it "regular".
The poll showed 62.4% of Brazilians believe the impeachment of Rousseff, who was put on trial by the Senate last month for breaking budget laws, was the right decision.
Yet 50.3% favor holding new elections this year to resolve Brazil's political crisis, the poll said.
MDA surveyed 2,002 people between June 2-5. The poll has a margin of error of 2.2 percentage points.