Switzerland expects influx of funds, if British voters decide to leave the European Union
Saturday, June 11th 2016 - 07:32 UTC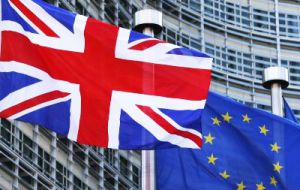 Swiss wealth managers said Friday they would expect an influx of funds from skittish international investors if British voters choose to leave the European Union in a June 23 referendum. Participants in a seminar organized by the Swiss Private Bankers Association (SPBA) in Geneva voiced concern about what the implications would be if a Brexit is voted through in a referendum on June 23.
Gregoire Bordier, SPBA vice president and an associate of the Bordier bank, told participants that if British voters choose to leave the bloc it would spark a climate of uncertainty throughout the continent. This, he said, was expected in turn to create "an influx of new funds to manage" in Switzerland, whose franc has long been considered a safe haven currency.
Asked how Swiss banks were preparing for the possible surge in funds, he acknowledged that it is "very difficult to prepare for uncertain events".
Opinion polls show the race for the June 23 referendum has gone from neck to neck, to an advantage for the Leave campaign, raising the real possibility that Britain could become the first country to leave the EU.
The pro-Brexit camp has argued that if it leaves the EU, Britain could have a harmonious relationship with the bloc to negotiate deals to access the single market similar to those in place for like non-members Norway and Switzerland. But analysts have questioned how easy that would be.
A report from the Swiss think-tank Foraus this week pointed out that it took Switzerland around a decade to negotiate its first package of bilateral agreements with Brussels. And when the Swiss in a narrow popular vote in 2014 decided to reintroduce curbs on EU migrants, Brussels reacted furiously, threatening to rip up all the bilateral agreements.
That issue has yet to be resolved, and the negotiations have been put on hold until after Britain's referendum.
Jacques de Watteville, Switzerland's lead negotiator on EU affairs, meanwhile told Friday's conference that a healthy EU was in the wealthy Alpine country's interest. But he insisted that "the world will continue to turn on June 24," regardless of the outcome of the British vote.
Christian Luescher, a parliamentarian with the Liberal Party who spoke at the SPBA event, stressed the importance of ensuring that Switzerland "remain a haven of peace and prosperity" if Europe is rocked by a British decision to leave.
Otmar Issing, a former chief economist at the European Central Bank, meanwhile told the seminar that "if the Brexit goes through it would be the first time that European integration takes a step backward."