"No animosity at all towards the president", said Macorra following a meeting with Pope Francis
Tuesday, June 14th 2016 - 12:15 UTC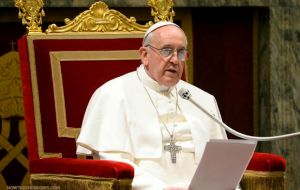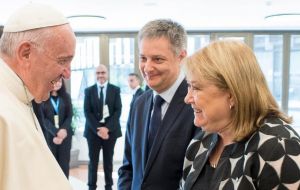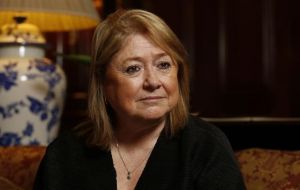 "There is no animosity", said Argentine Foreign Minister Susana Malcorra after meeting with Pope Francis in Rome on the sidelines of an event sponsored by the United Nations, just days after the pontiff publicly rejected a multi-million-peso "donation" from the administration of President Mauricio Macri destined for the pope's Scholas Occurrentes program.

The foreign minister, who is currently in the running to be the UN's next secretary-general Malcorra tried hard to downplay speculation that the Vatican does not see eye to eye with the Macri administration, following the pope's rejection of the state contribution worth 16,666,000 pesos.

The Foreign minister said that "there was no animosity at all toward the president" from the pope and that the conversation had been very rewarding.

"It was a really rich and very natural (meeting). There was no cross accusations or major philosophical differences," Malcorra told Argentine media.

"It was very good and enriching," Malcorra added of the tête-à-tête, which lasted around an hour and came as the Foreign minister continued her campaign to succeed United Nations Secretary General Ban Ki-moon, with both parties in attendance at an event organized at the UN's World Food Program (WFP) headquarters in the Italian capital.

Over the weekend Pope Francis — former Archbishop Jorge Bergoglio of Buenos Aires City — fuelled speculation that the relationship between the Vatican and Macri's administration was a frosty one after a papal spokesperson announced the rejection of Macri's offer "taking into account that some may try to distort this gesture."

"The Argentine government needs to address so many needs you shouldn't be demanding a single penny from it," Francis reportedly wrote in a letter to the Scholas Occurantes leadership announcing his intention to reject the offer.

Malcorra insisted that events over the weekend did not reflect badly on the pope's personal relationship with Macri and his administration. On the contrary, the Foreign minister said that the pair had discussed a range of topics from the subject of their meeting at the WFP summit to the many challenges facing Argentina and the rest of the world.

"It was a very good meeting in which we talked about multiple topics. I started talking about his message this morning at the WFP and that gave rise to us talking about the big problems of the world," she said.

"Basically the Holy Father expressed to me his clear concern that poverty is a reality and it is important to maintain a form of social coverage for those people who need it most," she added.