Canada and Pacific Alliance establish long term strategic partnership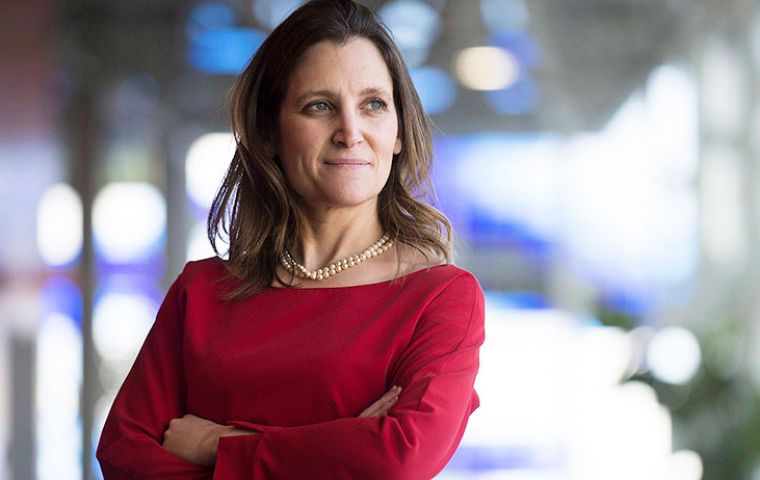 Canada became the first observer country to enter into a strategic partnership with the Pacific Alliance. Chrystia Freeland, minister of International trade and ministers of the four countries of the alliance—Chile, Colombia, Mexico and Peru—signed a joint declaration today in Mexico City.
The declaration formalizes the Canada-Pacific Alliance relationship and provides a framework for longer-term collaboration on a broad range of issues of mutual interest.
"Canada has supported the Pacific Alliance since its inception, as well as its collaborative approach to promoting trade and investment," said Freeland. "Canada's close and growing ties with the Pacific Alliance form the foundation for a long-term partnership that builds on our progressive trade agenda."
Canada's total merchandise trade with the Pacific Alliance reached US$46.2 billion in 2015. The four countries account for more than 70% of Canada's two-way trade with the whole Latin American region.
Mercosur, comprised of Argentina, Brazil, Paraguay, Uruguay and Venezuela, is the other major trading bloc in Latin America.
The countries of the Pacific Alliance have a combined population of 225 million, and in 2014, they accounted for over 58% of Latin America's total trade and 36% of the region's GDP. Canada has comprehensive free trade agreements with each of the four Pacific Alliance countries
Canada was the first non-Latin American country to become an observer with the Pacific Alliance. A joint statement on the signing of the partnership said that it "will allow the development of concrete initiatives to support Canada's and the Pacific Alliance's economic players, especially small and medium-sized enterprises."
The declaration identifies six areas for increased cooperation between Canada and the Pacific Alliance: trade facilitation and promotion; education and training; small and medium-sized enterprises; science, technology and innovation; responsible natural-resource development and corporate social responsibility; and environment, including climate change and ocean conservation.