Macri attends economic forum in Colombia; reaffirms Argentina's commitment to the Pacific Alliance
Thursday, June 16th 2016 - 07:25 UTC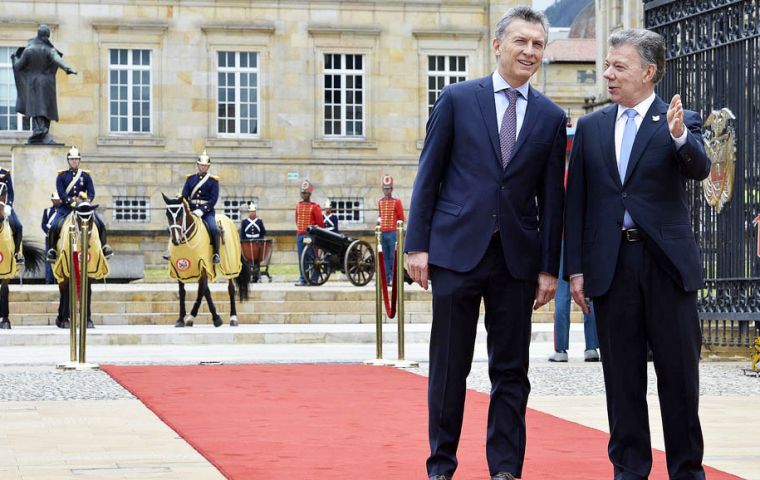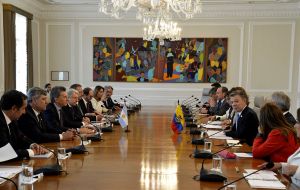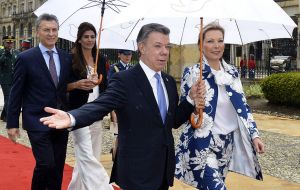 Argentine president Mauricio Macri said Mercosur needs "a greater integration dynamics" and defended the idea that the Atlantic regional block country members work to reach agreements with countries of the Pacific Alliance.
Macri who arrived in Bogotá on Tuesday evening met on Wednesday with president Juan Manuel Santos, on this way to Medellin for the World Economic Forum which opens Thursday.
"Mercosur needs a greater integration dynamics and must be open to work with other regional blocks such as the Pacific Alliance. We believe America must turn into a major zone of peace and integration" Macri told the media at the Nariño Palace.
Macri has been a strong advocate of joining the Pacific Alliance (Chile, Peru, Colombia and Mexico) and Argentina will officially become an observer next July first when he attends the Alliance's presidential summit in Puerto Varas, Chile.
President Santos underlined the strong links of Colombia with Argentina and called for closer trade relations as well as thanking "Argentina's commitment and support" for the peace process between the Colombian government and the FARC guerrillas.
Macri praised Colombia for having significantly reduced poverty and increased foreign trade and exports: "growth was essential to reduce poverty and we must take advantage of this experience. The technical performance of Colombian leaders can be easily witnessed in the development of Bogotá in recent years".
Both leaders spoke about the Venezuela situation and expect that the country respects human and civil rights and the democratic process. "We want a sustained dialogue among the different sides and that all of them respect the democratic process", underlined Santos.
Macri talked about his recent meeting with Venezuelan opposition leader Henrique Capriles and said that Argentina has a human rights debt with the Venezuela people, since "when human rights were trodden on in Argentina, many Argentines received refuge in Venezuela; now it's our turn to reciprocate".
Santos said Colombia will support Susana Malcorra's nomination to become the next UN Secretary General. The two leaders signed several agreements, among which one on cooperation to recover agriculture production in lands once combat zones.
Macri later visited Congress, met with different political leaders and finally the Palace of Justice, third branch of government.
The Argentine president on Thursday will be attending the Davos forum Latin America chapter, which this time is taking place in the Colombian city of Medellin. The two day meeting will convene business leaders, bankers, investors and presidents from the region.