Malcorra will present the Malvinas case before C24 next Thursday
Saturday, June 18th 2016 - 04:34 UTC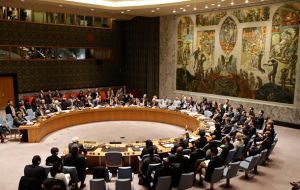 Argentine foreign minister Susana Malcorra will be absent from the debate on the Venezuelan situation scheduled for next Thursday in Washington, since that same day she will be attending the UN Special Decolonization Committee when the Falklands/Malvinas issue is to be addressed.
Thursday 23 June, in New York, will be the first time that Malcorra attends the C24 annual session representing Argentina, when Falklands lawmakers will also be making their position before the Special committee.
On the same day in Washington the Permanent Council of the Organization of American States will be addressing the Venezuelan situation, and a 150-page report by OAS Secretary General Luis Almagro sponsoring the implementation of the Democratic Clause on president Nicolas Maduro administration.
The issue is most controversial and there are several positions as to how address the Venezuelan situation among the 34-nation Latin American-Caribbean organization, although all members demand that institutions and the democratic process be respected. At stake is a recall referendum supported by the Venezuelan opposition, which could mean the removal of Maduro, but a majority consensus in OAS, including Washington, favors dialogue between his administration and opposition.
According to Argentine sources which currently chairs the OAS Permanent Council, president Maduro could be attending the session. In Washington Argentina will be represented by Deputy minister Carlos Foradori and its ambassador before OAS, Juan Arcuri.
And in New York, Malcorra will present Argentina's case claiming sovereignty over the Falkland Islands, but "with a more moderate approach", compared to the previous very aggressive Argentine administrations, and more consistent with her statements referred to bilateral relations with the UK, since taking office.
Nevertheless as has been the norm, C24, under the presidency of a Venezuelan delegate and a Syrian rapporteur, is expected to release a resolution calling on both sides, Argentina and UK, to resume bilateral negotiations for a peaceful solution to the longstanding dispute, and in fact ignoring the Islanders right to decide con their future, contrary to what is clearly established in the UN Charter as a major guideline.
Since Ms Malcorra hopes to succeed Ban Ki-moon next January, the Argentine foreign minister will be most careful not to offend Venezuela at the OAS Permanent Council meeting in Washington, and a moderate technical approach can be expected in New York regarding the Falklands, since both Venezuela and UK are permanent members of the UN Security Council