Rio under "state of public calamity" with seven weeks before the Olympics
Saturday, June 18th 2016 - 07:13 UTC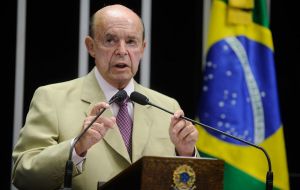 Brazil's Rio state authorities have declared a "state of public calamity" over a major budget crisis, in order to release emergency funds to finance the Olympic Games. The decree authorizes the state to "adopt all necessary emergency measures to ration essential public services in order for the Rio 2016 Olympic Games and Paralympic Games to take place".
"Any institutional instability would hurt the country's image," said the decree, signed by acting governor Francisco Dornelles and issued on Friday.
The Rio de Janeiro Olympics, which will run August 5-21, and Paralympics, which will run September 7-18, will be the first to be held in South America.
The events pose "serious difficulties in delivering essential public services and could even cause a collapse in public safety, health, education, transportation and environmental management", the decree said.
Rio de Janeiro state is in financial straits due to the fall in global oil prices, while Brazil overall is floundering during a deep recession.
Police, teachers and other government workers in Rio state have seen paychecks delayed because of the cash crunch. Retirees have protested because of unpaid pensions.
Brazil's economy shrank 3.8% last year, in what was its worst recession in 25 years. The IMF and the market are predicting a similar contraction this year.
Amnesty International has expressed concern at the cuts to social services, which could affect the training of security agents to work in the crime-ridden slums known as favelas.
The decision to cut services and security ahead of the Olympic Games "is not only a shock but is also incredibly worrying, especially given the bad history of police killings and murders," Amnesty Brazil director Atila Roque said in a statement.
Rio's state budget shows a US$5.6 billion shortfall for 2016. Royalties from oil, which is the state's main revenue-earner, are projected to decline from US$ 3.5 billion in 2014 to just US$1 billion this year. Mr Dornelles has called the situation "tragic".
He urged the national government to step up, and pressed authorities to look at what public assets could be sold off to raise cash.
After much pleading, Rio received almost US$300 million from the federal coffers to extend its metro network to link the main Olympic zone of Barra da Tijuca with the chic Ipanema district.
But the federal budget is in no better shape, with Brazil's primary fiscal deficit forecast to be about US$47 billion. The government is also contending with double-digit inflation, and unemployment at a record 11%.
The climate has been worsened by political upheaval, with Brazil in the midst of a controversial impeachment process against its left-wing president, Dilma Rousseff.
The Games are expected to bring in 10,500 athletes and half a million tourists from around the world.