OAS listens to mediators' appeal for government/opposition dialogue in Venezuela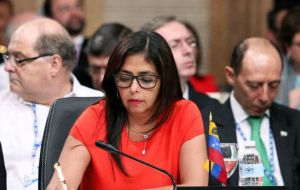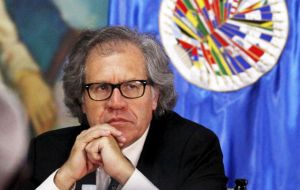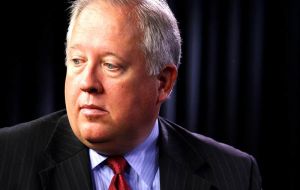 Addressing the OAS Permanent Council, former Spanish president Jose Luis Rodriguez Zapatero said that reconciliation is an indispensable and essential challenge to overcome the current confrontation situation in Venezuela, and although it will be a long, difficult process, he recommends dialogue efforts should continue.
Venezuela called an extraordinary Organization of American States session on June 21 to update the body about dialogue between the government and opposition in an effort to attempt to defuse a looming vote about suspending Caracas for violating the Democratic Charter.
Rodriguez Zapatero together with ex-presidents of the Dominican Republic and Panama, Leonel Fernandez and Martin Torrijos, are involved in the dialogue initiative between the Venezuelan government and opposition, sponsored by the Unions of South American Nations, or UNASUR.
The former Spanish President said the dialogue between the Venezuelan government and opposition must "address the conflicts and controversies that have clearly existed between branches of government and institutions in Venezuela since the past elections to the National Assembly."
"Reconciliation is an indispensable task, and essential", said Rodriguez Zapatero. "This involves issues of amnesty, pardons, reparation to victims. There is a truth commission set up by the government of Venezuela that could be the appropriate instrument," added Zapatero. "It will be a long, hard and difficult process," he concluded. The Permanent Council took note of the presentation.
The meeting took place two days before the hemispheric body is to discuss whether its Democratic Charter should be applied to Venezuela. On Thursday OAS' secretary-general, Luis Almagro, is expected to blast the Venezuelan government for the erosion of the democratic system, abuse of human rights, shortages of food and medicines, including deaths because of looting incidents.
At the same time, U.S. State Department Special Envoy Thomas Shannon arrived in Caracas for talks after U.S. Secretary of State John Kerry and his Venezuelan counterpart, Delcy Rodriguez, agreed to resume bilateral discussions in a private meeting on the sidelines of the OAS General Assembly in Santo Domingo a week earlier.
On May 31, Almagro invoked the OAS Democratic Charter with the aim of increasing international pressure on Caracas, alleging that President Nicolas Maduro's government was thwarting the popular will after legislative elections last year gave the opposition control of the National Assembly.
The application of the charter could lead to Venezuela's suspension from the body. Venezuela's opposition is seeking to recall the populist Maduro amid escalating political and economic tensions.
However the outcome of the Thursday session, which Venezuela requested to be annulled as unnecessary following Tuesday's presentations, is still unclear since there's a significant consensus to insist with dialogue, before moving to the following step, the Democratic charter.