Falklands defend their right to self-determination at UN Decolonisation Committee in New York
Thursday, June 23rd 2016 - 15:16 UTC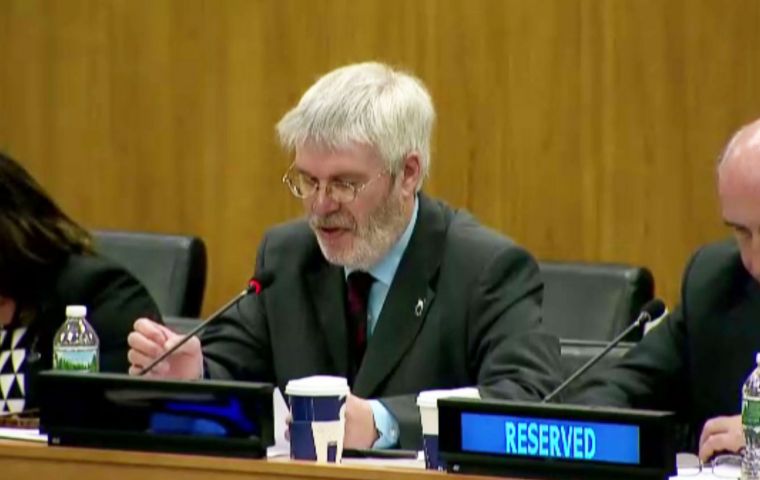 Falkland Islands Legislative Assembly members, Mike Summers and Gavin Short, speaking early today at the Special Committee on Decolonisation at the United Nations in New York argued that the Falkland Islands and its people have the right to determine their own future. Argentine Foreign Minister Susana Malcorra is scheduled to present Argentina's case to the C24 claiming Argentine sovereignty over the Falkland Islands later this afternoon.
Falkland Islands Government (FIG) representatives, Mike Summers and Gavin Short – both Members of the Legislative Assembly in the Falklands – today spoke at the United Nations (UN) Decolonisation Committee in New York, arguing that the Falkland Islands should no longer be regarded as a colony and should be free to determine its own political future.
After giving the Committee a brief overview of economic and political developments in the Islands over the past three decades, MLA Summers, as in previous C24 meetings, again reiterated that the Falklands was "not a colony of the United Kingdom" and has the "right to self-determination". While noting that the new Argentine Government "has made some encouraging remarks", he added that they remain just that and FIG "hope that they will soon feel able to dismantle the barriers to trade, co-operation and good neighbourliness put in place by its less enlightened predecessors".
MLA Summers further spoke that FIG "remains willing, as it has always been, together with the United Kingdom, to enter into dialogue to find ways of working together for the benefit of future generations", but that does not include sovereignty; adding "we have no intention of becoming a colony of Argentina".
Speaking after MLA Summers, MLA Short gave an impassioned speech stating "when it comes to the political future of the Falklands neither the United Kingdom nor Argentina really matter…it's about us, the people of the Falkland Islands and… we are the only people who can say what we want for our future". He also noted that "whilst the Falklands are not completely independent we have a huge amount of autonomy. We are completely internally self-governing and we only rely on the United Kingdom for matters of foreign affairs and defence and we are in this relationship voluntarily".
Both MLA Summers and Short invited the Committee to send a delegation to the Falklands, as they have done during previous speeches at the C24, to see for themselves the realities of life in the Falklands and to see "that we are not a colony".
Prior to speaking at the C24 meetings, the Falklands delegation spent a week lobbying in the US capitol, Washington DC, where they met with numerous US Senators and Congress members. They also met with representatives from the Americas Society and the Council of the Americas (a think-tank on Latin American affairs). MLA Summers also recently visited Canada on a political lobbying trip where he met with Canadian MPs, members of the Foreign Ministry and the UK-Canada Parliamentary Association.