Falklands will continue to engage with UK and negotiate to retain trade access benefits
Friday, June 24th 2016 - 18:43 UTC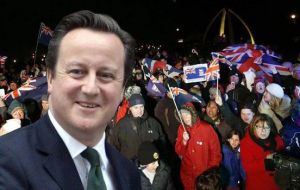 The Falkland Islands Government said on Friday it will be working with the public and private sector to further investigate the impact of Brexit on the Islands.
On Friday morning Falklands representatives congratulated all involved in campaigning on both sides of the debate, adding: "As with the referendum on our political future in 2013, the impressive turnout and widespread engagement with the referendum reflects well on our respective democracies."
A statement from Gilbert House noted: "As the Prime Minister stated this morning, the UK Government will now look to enter the process for exiting the EU. This will take some considerable time and the end result is unclear, but there will be no immediate changes to our and other British national's circumstances.
"We will be working across Government, and with the private sector and NGOs, to further investigate all of the potential direct and indirect implications, particularly trade-related, and to ensure that all detail is well documented.
"Once complete, and alongside other Overseas Territories, we will continue to engage with the UK Government regarding the exit process. We will ensure that the interests of the Territories are known to the eventual negotiating team and our goal will be to look to retain the benefits we currently have, particularly in relation to trade access.
"Sadly this process will not be led by Prime Minister David Cameron, and we would like to express our early public thanks to him for his unwavering support of the Falkland Islands and our right to self-determination. We are certain this will remain unchanged under the next leadership."