Two presidents at opening of Rio Olympics in August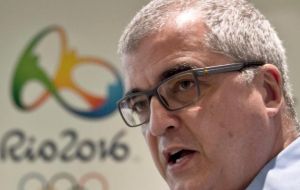 Dilma Rousseff, Brazil's suspended president, will be invited to the opening ceremony of the Rio Olympics on August 5, the organizing committee said Thursday. Rousseff has been replaced by vice-president Michel Temer pending her impeachment trial over allegations of fiddling government accounts.
Temer in his role as head of state will officially declare the first Games in South America open, said Mario Andrada, spokesman for the Rio 2016 organizing committee.
But he added: "She (Rousseff) will be invited, but not only president Dilma, all ex-presidents will be invited, it's part of democracy and the Olympic protocol."
During a visit to the Olympic Park last week, Temer brushed off the prospect of his rival Rousseff at the opening ceremony, saying he had no objections