Ambassador Lyster-Binns confident the UK economy is large and strong
Saturday, June 25th 2016 - 11:34 UTC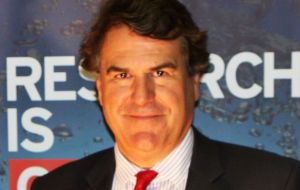 United Kingdom´s Leave victory did not come as a great surprise, since the race was too tight, but that was the decision of the people and the economy is large and strong, admitted British ambassador in Uruguay, Ben Lyster-Binns, in a television interview.
"I was not surprised since it was one of the possibilities. Now we must accept that decision which is definitive and there´s much work ahead" said the UK ambassador in Montevideo, who added that Prime Minister David Cameron´s announcement he was resigning next October, just a few hours after referendum results were confirmed, can be understood because the head of the government put all efforts and conviction in the Remain vote.
As to the significant drop of Sterling, the lowest in decades, and world markets, Lyster-Binns said they were reactions to be expected, but he trusts the UK economy will remain strong.
"Several issues generate big expectations, but it's important to have confidence in our country, the future and in the economy. We´re a very strong, very large economy and this essentially is not going to change: we see no major economic downfall".
As to other possible Brexit impacts on foreign policy and other areas, Lyster-Binn said he is confident relations with other regions of the world will continue along their normal course, and those with Latin America, "are not going change".
More specifically regarding Uruguay, ambassador Lyster-Binn said relations are good, going through a very good moment, and Brexit should have no impact. "We have years of strong relations with Uruguay, referendum results should not change that situation".