Brazil's recession greater risk than Brexit for Argentina: could chip 1.5 percentage points from GDP
Monday, June 27th 2016 - 07:15 UTC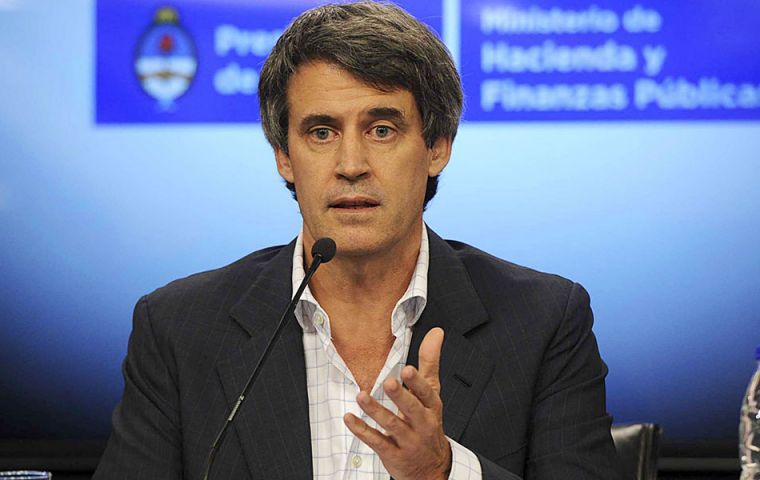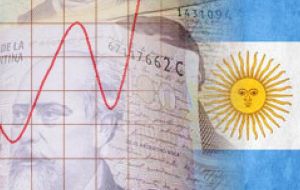 Argentina's annual rate of inflation was likely to have reached an annualized 42% through May, but should begin to slow in June with a return to growth also on the horizon, Finance Minister Alfonso Prat-Gay said in an address to investors in New York. The minister also said that for Argentina, Brazil's recession had a greater impact than Brexit.
"The government is very confident in the second half of the year, when the inflation rate would slow down to between 2 and 2.5% in June" said the Argentine minister.
"We think the dirty work is mostly done," Prat-Gay said, calling president Macri "very brave" for spending his political capital on unpopular economic austerity measures such as the recent hike on natural gas, electricity and running water.
"The annual inflation rate at a national level rose from 30% when we took office to between 40 and 42%. Eight of those 12 percentage points are basically the direct and indirect impact of the increases on public utilities," he said.
Monthly consumer prices rose 4.2% in May, the INDEC official revamped statistics bureau said last week. May was the first month for which official inflation data was published since Macri took office, though annual figures were not released.
The number is still above Central Bank chief Federico Sturzenegger's monthly inflation target of 1.5% since September, and even higher when compared against Finance Minister Alfonso Prat Gay's 2016 inflation target of 20 to 25% on the year.
Prat-Gay also addressed the upset caused by Brexit, Britain's vote last Thursday to exit from the European Union, came at a time of increasing stability in Argentina.
"It seems to us that (Brexit) is more an issue of distortions or disruptions around the developed world than it is in our region, or in particular Argentina," the Finance minister said. "We don't want to get too carried away in saying that Argentina is a beacon of stability, but that is probably one way of looking at it," he added.
Prat-Gay said Argentina needs investment to restore growth. The country's corporate debt to gross domestic product ratio is around 15%, considerably less than around 60% in most of Latin America. The investment to GDP ratio is also low at less than 20%, he said.
"This is an economy that has ceased to invest over the last five years. Once we get the investment engine started again, that will create a boom," he said.
Still, Prat-Gay said risks included an ongoing recession in Brazil, which would knock one to 1.5 percentage points off of Argentina's GDP.
"Brazil is the difference between growing and not growing for the first year of our administration. It's really critical," he said. "We removed trade barriers so we would really appreciate if they followed our example and did the same."