UK ready to face the future from a position of strength, says Chancellor Osborne
Monday, June 27th 2016 - 10:06 UTC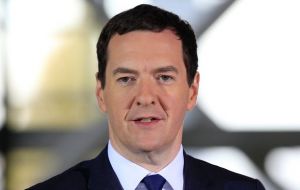 Chancellor of the Exchequer George Osborne has said the UK is ready to face the future "from a position of strength" and indicated there will be no immediate emergency Budget. However he admitted there would still need to be an "adjustment" in the UK economy, and it was "perfectly sensible to wait for a new prime minister" before taking any such action.
The chancellor also said that only the UK could begin the process of leaving the EU by triggering Article 50 of the Lisbon Treaty. He made the comments in a statement aimed at calming financial markets after the Brexit vote triggered market turmoil on Friday.
Osborne had not spoken since the Leave campaign won Thursday's referendum.
"I said we had to fix the roof so we were prepared for whatever the future held and thank goodness we did," he said.
On the process of the UK's departure from the EU, he said: "Only the UK can trigger Article 50. And in my judgments, we should only do that when there is a clear view about what new arrangements we are seeking with our European neighbors.
"In the meantime, during the negotiations that will follow, there will be no change to people's rights to travel and work and to the way our goods and services are traded or to the way our economy and financial system is regulated."
The chancellor's statement came as the repercussions of the Brexit vote continued to shake the UK's political system.
The opposition Labour party has seen 14 of its senior members resign since shadow foreign secretary Hilary Benn was sacked in the early hours of Sunday after he told Mr Corbyn he had lost confidence in him.
The latest front-bench resignations, on Monday morning, are by shadow foreign minister Diana Johnson, shadow civil society minister Anna Turley and shadow defense minister Toby Perkins. In response, Labour leader Jeremy Corbyn has announced a reshaped shadow cabinet, but he still faces a potential no-confidence motion from Labour MPs.