A harmonious NAFTA Tres Amigos Summit pledges to combat protectionism and xenophobia
Thursday, June 30th 2016 - 13:32 UTC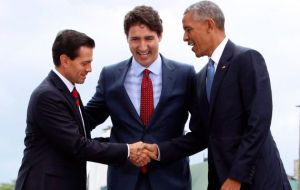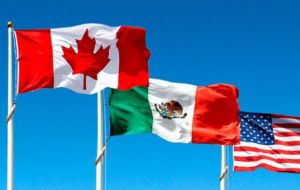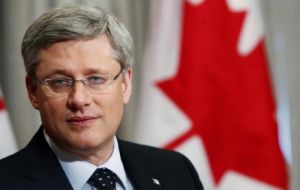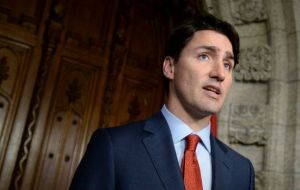 United States, Canada and Mexico on Wednesday in Ottawa held their first summit after years of aloofness and held themselves up as an example against growing protectionist tendencies around the world.
The U.S. and Mexican presidents, Barack Obama and Enrique Peña Nieto, respectively and Canadian Prime Minister Justin Trudeau on Wednesday finalized their reconciliation with the first North American leaders' summit since 2014, professing their readiness to increase integration among their nations.
After several hours of bilateral and trilateral meetings, the three countries agreed to launch an action plan on climate change, energy and the environment establishing that the region will generate 50% of its power using "clean" technologies by 2025.
But perhaps the most important message of the summit was the testament to the fact that the three countries have left behind the frictions of recent years, especially the lack of connectedness of former Canadian Prime Minister Stephen Harper with his two counterparts.
Adopting a clearly similar tone, style and message content, the three leaders on Wednesday presented a common front against the protectionist tendencies and xenophobia that, as Obama said, are advancing around the world.
Amid the impact caused by last week's British referendum vote to leave the European Union, Trudeau pointed to the environmental and energy agreement as "proof" that cooperation works and that working together is always better than going it alone.
Peña Nieto, referring to Republican presumptive presidential nominee candidate Donald Trump, said that he opposed Trump's call to build a U.S.-Mexican border wall, though he said he was prepared to work with whoever is elected U.S. president.
The U.S. president, meanwhile, said that after eight years in office, he knows that "The prescription of withdrawing from trade deals and focusing solely on your local market, that's the wrong medicine".