UK and France mark centenary of start of the Battle of Somme, WW1 bloodiest
Friday, July 1st 2016 - 13:22 UTC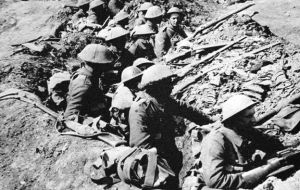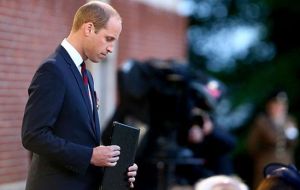 Commemorations are being held in the UK and France to mark the centenary of the start of the Battle of the Somme. Britain fell silent to mark the moment on 1 July 1916 when the battle began and the start of the bloodiest day in British military history.

A ceremony at the Lochnagar crater on the battlefield was held and on Thursday night the Queen attended a vigil at Westminster Abbey.

The battle saw more than one million men killed and wounded on all sides. Somme, one of World War One's bloodiest, was fought in northern France and lasted five months, with the British suffering almost 60,000 casualties on the first day alone.

At a vigil in France, the Duke of Cambridge paid tribute to the fallen soldiers, saying "we lost the flower of a generation".

The British and French armies fought the Germans in a brutal battle of attrition on a 15-mile front.

At the ceremony at the Lochnagar crater, which was created by an explosion at the start of the battle in La Boiselle, France, a rocket was fired to simulate the artillery fire. This was followed by whistles to symbolize those that were blown 100 years ago as men scrambled from the trenches.

Ahead of the two-minute silence in the UK, the King's Troop Royal Horse Artillery fired guns from Parliament Square for 100 seconds to mark the 100 years since the battle began.

Across Britain and at the vigil sites at Westminster Abbey, Edinburgh Castle, the Somme Heritage Centre in County Down, the Welsh National War Memorial in Cardiff, as well as in France, the silence was observed

Another ceremony will take place at the Thiepval memorial, near the battlefield in northern France, attended by 10,000 people including the Prince of Wales and Prince Harry and hundreds of descendants of the those who fought in the battle.

Leaders from Northern Ireland and the Republic of Ireland will attend a service at the Ulster Tower later.

At the Westminster Abbey Service on Thursday, the Queen was joined by the Duke of Edinburgh as she laid flowers at the Grave of the Unknown Warrior.

The tomb holds an unidentified British soldier killed on a European battlefield, brought back and buried in the abbey to honor the unknown dead of the battle.