Cristina Fernandez calls on the opposition leaders to 'fulfill' their role checking on Macri's administration
Monday, July 4th 2016 - 08:56 UTC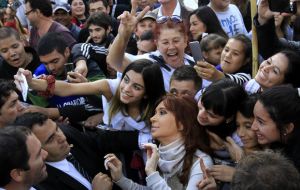 Argentine former president Cristina Fernandez criticized her fellow opposition leaders, accusing them of failing to "fulfill" their role as a check on President Mauricio Macri's administration.
"The opposition must fulfill its role. I believe it is lacking ideas," she told news channel C5N in her first interview in months. The ex president arrived to Buenos Aires from Rio Gallegos on Saturday evening allegedly for court appearances and try to reunite her atomized block in congress.
The former president also demanded the magistrates investigating her for alleged money-laundering carry out a full, transparent audit on all public works projects approved under FpV governments, in a bid to clear her name.
"I will propose (to the judges) that they audit our government's public works projects, (through) an audit done by consultancy firms," she said.
The goal of such a process, CFK argued, would be to put an end to remarks of those "going around talking loosely that there were overbilling of public works" under Kirchnerite administrations. She then criticized the president for lowering the "quality of life" of all citizens.
CFK said this week's court appearance before Federal Judge Claudio Bonadio — who is investigating her with regard to the so-called "dollar futures" case — was not the reason why she was back in Buenos Aires.
"I wanted to have a first-hand impression of the social situation (in the country's capital). I like talking to the people, be around them," she said.
On Thursday, a federal appeals court ordered Federal Judge Sebastian Casanello to investigate the former president as part of his ongoing money-laundering probe into alleged crimes committed by Kirchnerite businessman Lázaro Baez. That same day, Federal Police officers carried out a number of raids to take possession of documents linked to the Los Sauces hotel to provide evidence of alleged money-laundering practices used in that business.
CFK insisted she had only rented "a piece of real estate" to Lazaro Baez, openly denying that she had rented "rooms in a hotel" to the incarcerated public works tycoon. In any case, she said, "they were insignificant rates" that could never amount to money-laundering operations.
CFK repeatedly criticized the hikes in utility bills and called on for the correction of the economic direction of the Mauricio Macri administration.
She said there is a "wide" perception that the number of people under the poverty line in the country has increased since Macri took office in December. She said the government's economic measures benefitted only the "most concentrated" sectors of the economy, claiming she had personally "warned" Macri on the impact such measures would have during a meeting they had at the time the PRO chief served as Buenos Aires city mayor.
"We have seen a massive transfer of funds from the middle class and workers to the most concentrated sectors of the economy, especially the agriculture and the financial ones," she said.