Brazil manages US$23.6bn trade surplus in the first half of the year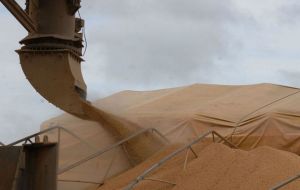 Brazilian exports exceeded imports by US$23.6 billion in the first half of the year - a record for the period. In addition to the basic products, sales grew strongly with the sale of vehicles for Latin America. The data were released by the Ministry of Industry Trade and Services.
According to the director of the Department of Statistics and export support, Herlon Brandao, only exports totaled US$ 90.2 billion in the first half.
"Brazil sold abroad more goods than it bought. This is very significant because it helps balance the external accounts in Brazil, "said Brandão.
"Our relationship with the outside was lacking and spent the greater balance. Helps to improve the financial health of the country as a whole," he pondered.
This result of exports in the period were mainly formed by soybeans, whose sales volume grew 17.7% compared to the first half of 2015.
The list follows with iron ore (+ 4%), beef (+14.1%), cellulose (29%), aircraft (+ 9.8%) and passenger cars (+ 50.4%).
"China is a great destination for soybeans and beef. The Chinese market was released in the first half of last year and increased beef performance," said Brandão.
He also reported that there was an increase of sales to Japan and South Korea, mainly corn and soybeans. As for Mexico was high pulled by cars. The main destinations for pulp were the Netherlands, China and the United States.
The ranking of the main countries of destination of exports in January-June cumulative was led by China (US$ 21.0bn), United States (US$ 10.7 bn), Argentina (US$ 6.5 bn), the Netherlands (US$ 4.7bn) and Japan (US$ 2.4bn).
Likewise the main countries of origin of imports were China (US$11.4bn), United States (US$ 11.2bn), Germany (US$ 4.7bn), Argentina (US$ 4.2bn) and South Korea (US$ 3.0bn).