OECD-FAO forecasts agriculture prices will remain relatively flat overall in next decade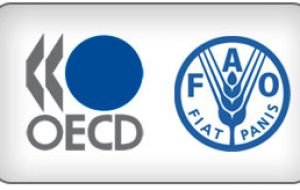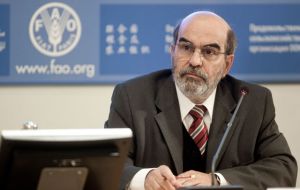 The recent period of high agricultural commodity prices is most likely over, say the OECD and FAO in their latest 10-year Outlook. But the two organizations warn of the need to be vigilant as the probability of a major price swing remains high.
The OECD-FAO Agricultural Outlook 2016-2025, published this week, projects inflation-adjusted agricultural commodity prices will remain relatively flat overall in the coming decade. However, livestock prices are expected to rise relative to those for crops.
As incomes improve, especially in emerging economies, demand for meat, fish and poultry will demonstrate strong growth. This creates additional demand for feed, particularly from coarse grains and protein meals, causing their prices to rise prices relative to food staples such as wheat and rice.
Globally, the increased demand for food and feed for a growing and more affluent population is projected to be mostly met through productivity gains. Yield improvements are expected to account for about 80% of the increase in crop output.
According to baseline analysis made in the Outlook, under a "business as usual" scenario -- in which agricultural productivity grows at the current trend rate and no major action is taken to reduce hunger -- projected growth in food availability would result in a reduction in the number of undernourished people in the world from around 800 million now to under 650 million in 2025.
The Agricultural Outlook says that the bulk of all commodity exports will continue to originate in just a few countries.
Imports, however, will be far less concentrated among countries, although China is projected to remain a critical market for some commodities, in particular soybeans. OECD and FAO emphasize the importance of well-functioning markets in enabling food to flow from surplus to deficit regions and improving food security.
At the Outlook's launch in Rome, OECD Secretary General Angel Gurría said: "Although we are now witnessing a period of lower agricultural prices, we need to remain alert as changes in markets can take place rapidly. The key priority for governments in the current context is to implement policies that will increase agricultural productivity in a coherent and sustainable way. Getting our agricultural policies right is critical to end hunger and undernourishment in the decades to come."
"Significant production growth is needed to meet the expanding demand for food, feed and raw products for industrial uses, and all of these have to be done in a sustainable way," said FAO Director-General José Graziano da Silva. "We are optimistic that most of that future demand for agricultural commodities will be mainly met through productivity gains rather than expansion of crop area or livestock herds," he added.