Mercosur ever so divided plans a new meeting to decide on Venezuela´s presidency of the group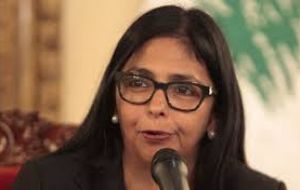 Mercosur four founding members meeting in Montevideo have been unable to reach a consensus on whether to transfer, for the next six months, the group's pro tempore presidency to Venezuela and decided on a new round of talks next Thursday. Uruguay insists in complying with the charter and calendar, but Paraguay and Brazil question the current government of Venezuela's credentials for the job, and Argentina has an ambiguous position.
In an unexpected almost soap opera twist of events, Venezuela which had not been convened to the "informal" meeting turned up in Montevideo, but was not invited to the closed doors meeting, giving foreign minister Delcy Rodríguez the chance to make some ironic statements about Brazil and Paraguay.
Brazil, under the government of interim president Michel Temer questions the fact that Venezuela, a full member since 2012, has yet to comply with all the Mercosur internal rules and regulations and thus, should it be trusted with the presidency. Paraguay is more caustic and argues the Mercosur presidency needs a consensus and should not be transferred to a country with serious domestic problems and which is planning to close down congress, censors the media and does not respect human rights. Even Uruguay´s foreign minister Nin Novoa describes the current Venezuelan institutional situation as an "authoritarian democracy".
"We've given ourselves until next Thursday, a two-day recess, so that all members can make the necessary consultations" indicated Nin Nova, adding that the goal was to reach a consensus "that satisfies all sides involved".
The founding members of Mercosur also want Uruguay (or Argentina according to president Macri) to keep the presidency during the second half of the year when the crucial current trade and cooperation negotiations with the European Union.
"Uruguay is ready to make the presidency transfer to Venezuela, but this has triggered a significant controversy which we are discussing and addressing with the greatest of respects", added Nin Novoa who insisted that the "book" must prevail over political decisions.
The foreign ministers meeting originally requested by Paraguay at least three weeks ago was repeatedly postponed and finally agreed for this Monday, but both Brazil and Argentina sent second line representatives. Brazil was present with Paulo Estivallet, head of the South America and Caribbean Desk in the foreign ministry since the minister Jose Serra was off to China. Argentina sent deputy minister Carlos Foradori, because Susana Malcorra remained in Buenos Aires to host her Netherlands peer.
"It's obvious that there is a political problem which puts in doubt if Venezuela currently has the needed credentials, --we all would like--, to take over the presidency of Mercosur", said Estivallet.
Argentina is more ambiguous, since Malcorra supported Uruguay's position but Macri in his recent trip to Europe blasted Venezuela for similar reasons as Paraguay and Brazil, which could be the reason she sent Foradori and stayed in Buenos Aires.
"The idea is not to kick the ball ahead but rather design a scheme that helps us consolidate Mercosur and advance solidly particularly in a such a critical moment in the midst of negotiations with EU", said Foradori.
And to make things even more complicated Venezuela minister Delcy Rodríguez unexpectedly turned up in Montevideo, demanding the Mercosur presidency and requesting to be invited to the informal ministerial meeting, which did not happen. However Nin Nova and Foradori later visited the minister to give her an idea of what was going on.
Ms Rodriguez later told the press that in the coming days the date for the presidency transfer would be made official. But Nin Novoa and Foradori denied that any thing of the sort had been agreed.
"Brazil and Paraguay are suffering of "Almigritis" (in reference to OAS secretary general Almagro who is also questioning Venezuela)" said ironically Rodriguez in response to the fact that none of the representatives of the two countries wanted to meet with her.
"They hid in the toilet and did not want to face Venezuela" added Rodriguez.