Argentines hold at least 232.5bn dollars overseas, according to stats office Indec
Wednesday, July 13th 2016 - 07:04 UTC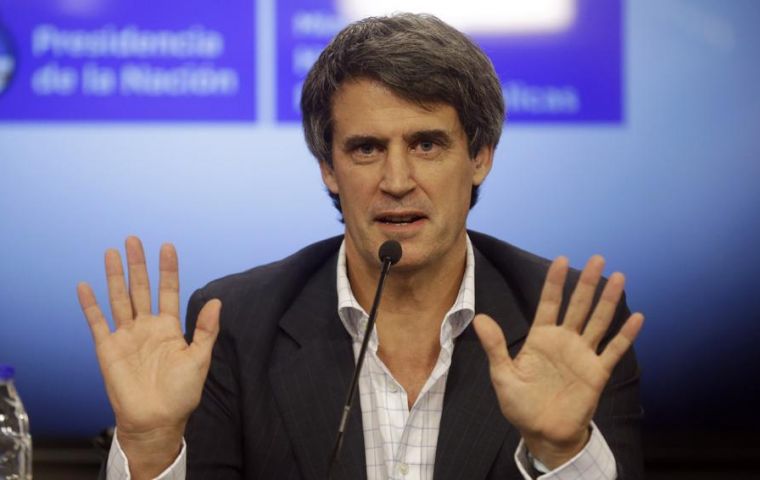 Argentines held 232.5 billion dollars overseas in 2015, almost 10bn dollars over the previous year, according to the latest report from the country's official Indec stats office. The report, "International Investment position" is a financial balance account of Argentina with the rest of the world and records the market value of Argentine residents external assets and liabilities.
The sum is a crucial reference for when Argentina begins to implement the Capital repatriation bill recently passed by congress and is geared to attract unregistered assets overseas under the scheme of a tax amnesty.
Finance minister Alfonso Prat Gay said that there's "no official estimate" of how much money can take advantage of the bill, because it involves "hidden funds", and it's hard to estimate, but "expectations are great because it's going to be something big".
The funds will pay a tax of zero percent to 15% depending on the amount and when they are brought back into the country, Prat Gay said. However the minister also pointed out that an international tax sharing agreement that begins in 2017 will make it much more difficult for Argentines to continue hiding funds abroad
The tax amnesty "is the first that rewards those who were up-to-date," Prat-Gay said. "We're offering this last opportunity because from January the tax agency will have all the instruments it needs to search for that money in any part of the world."
Argentina will hope to emulate Chile, where a similar amnesty last year collected US$ 1.5 billion in revenue, more than 10 times the amount forecast. Brazil started its own similar plan last month.
The government hopes to attract about US$20 billion from the tax amnesty, local media reported, citing government officials it didn't identify. Argentines will be able to declare their money without bringing it into the country.
People can also comply with the amnesty by investing in Argentine Treasury bonds or they can make long-term investments in infrastructure projects, housing, mortgages or small- and medium-sized businesses, according to the statement.
The bonds on offer will be either a three-year instrument that pays no interest or a six-year bond that pays 5% after the fourth year.