Half of Brazilians prefer Temer to remain as president until the 2018 election
Wednesday, July 20th 2016 - 06:54 UTC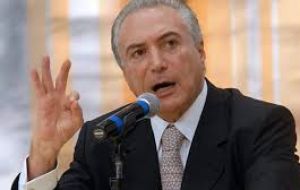 Half of Brazilians would like to see interim President Michel Temer stay in the job until the next election in 2018, compared with 32% who desire the return of suspended President Dilma Rousseff, according to a Datafolha poll published this weekend on the Folha de S.Paulo website.
The poll, conducted on July 14 and 15, showed just 3% of people are in favor of holding early elections.
Rousseff is currently suspended as her impeachment case is tried in the Senate. A verdict is expected toward the end of August on whether she broke budget laws.
Despite half of Brazilians wanting Temer to continue in the country's top job instead of having Rousseff return, the interim president's approval rating is only 31%.
The wide-ranging poll also showed rising confidence in the economy. The Datafolha Index of Confidence registered 98 points, the highest since the end of 2014 and 11 points higher than the last poll in February.
Another Datafolha poll commissioned by Rio's O'Globo showed that ex president Lula da Silva and sponsor of suspended Dilma Rousseff, is the favored candidate for the 2018 presidential election with 22% of support interviews, followed by Green Party's Marina Silva, with 17%. Another presidential hopeful Aecio Neves, from the Social/democrats PSDB, had 14% support. Marina was third in the 2014 election and Neves disputed the second round run-off with Rousseff, who is now suspended from office.
The Datafolha poll revealed that incendiary rightwing lawmaker Jair Bolsonaro, who dedicated his pro-impeachment vote in Congress to Rousseff's torturer (during the military dictatorship) polled 7% and former Lula minister Ciro Gomes, 5%. The poll at national level with 2,792 respondents was conducted between July 14 and 15