Falklands: Le Boréal 2015 engine-room fire ignited by clogged fuel filter, says report
Thursday, July 21st 2016 - 08:17 UTC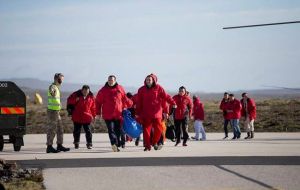 French maritime authorities have released the engine room fire incident report of cruise Le Boreal on 17 November 2015, which forced the air evacuation of some 90 passengers and crew to the Falkland Islands, while the rest were transferred to her sister ship L'Áustral. According to the report the fire was due to a clogged fuel filter element, which was disassembled under pressure by a crewmember and thus started leaking fuel.
The fire broke out immediately around a third diesel generator's "turbo-blower" and rapidly spread, via cabling, to the upper decks of the engine room.
The released report says the midnight engine room fire spread quickly, leaving the ship dead in the water without propulsion – but with emergency backup power. The water-mist fire extinguishing system triggered automatically, but was not strong enough to prevent the fire from spreading along bunched cables.
The crew had the fire under control shortly after, but the power-plant was out of commission. With the vessel drifting towards the coast, the captain made the decision to drop anchor and evacuate passengers and almost all crewmembers with the support of the Royal Navy and the SAR operating from MPA in the Falklands, together with Ponant sister ship L'Austral, which was in the area at the time.
The ship was on an 11-day Antarctica cruise at the time, with 347 people onboard, including 194 passengers of which there was a group of 90 Chinese.
A spokesman for Compagnie du Ponant, which owns Le Boréal, said at the time that as precaution, all passengers were evacuated from the ship, and would re-embark on L'Austral, who belongs to the Ponant fleet
The Falkland Islands government later reported that all passengers from the Le Boreal's life rafts had been safely transferred to L'Austral, which was sailing for Stanley. The remaining 78 (mainly crew and 12 pax) who were transferred to land by SAR helicopters arrived in Stanley by coach via Mount Pleasant.
Le Boreal was later anchored safely with captain and skeleton crew on board. Falklands' patrol HMS Clyde helped with the transfer of passengers and together with the support of two powerful oil rig tugs finally were successful in combating the fire on board.
The Falklands government reported that all passengers underwent medical checks prior to being released into Stanley to be assigned accommodation. Each rescued person was issued with toiletries and hygiene items provided by FIG. Accommodation was also provided coordinated through the Ponant's local agents, Sulivan Travel and the Falkland Islands Tourist Board.