Mothers breastfeed openly in public places across Argentina to claim rights
Tuesday, July 26th 2016 - 17:37 UTC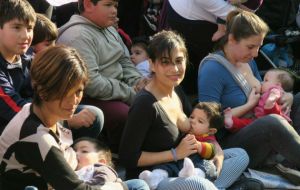 Thousands of women across Argentina on Sunday gathered at landmarks and public squares to breastfeed their children in solidarity with a San Isidro woman who was reprimanded by local police and threatened with resisting authority for doing just that even though breastfeeding in public is legal.
Following outcry on social media that galvanized a broad group of support for Constanza Santos, women rallied in San Isidro and beyond in defense of the right to breastfeed whenever and wherever they wish.
Protestors pointed out that "it turns out that breasts are not a problem when they are on posters on the street or on TV at noon, but they are a problem when a mother feeds her child."
In Buenos Aires City mothers met at the Obelisk and there were reports of encounters in provincial capitals across Argentina, rallying not only in solidarity with Santos but also to underline the importance of improving labor rules for nursing women who return to work after maternity leave. Women who could not attend posted pictures of themselves nursing their children.
The group Feminine Empowerment noted that "it is fundamental that support is given to nursing mothers because there is a crisis in growth of children and in the country there are contradictory messages because the health sector promotes breastfeeding while working mothers only have maternity leave for six months in order to breastfeed."
Unicef Argentina also joined in on the debate on social media, recalling that breastfeeding is a fundamental right and that the "state, health teams, family and community must promote actions to defend breastfeeding."
During the public outburst the women and men attending the various rallies, thanked the police officers for inadvertently putting the topic of breastfeeding in public back on the agenda. Meanwhile it was reported that the two women police officers who told Santos to cover-up have been put on administrative leave and the entire local San Isidro police will receive training on breastfeeding.