Fed sees current conditions remaining unchanged, at least until December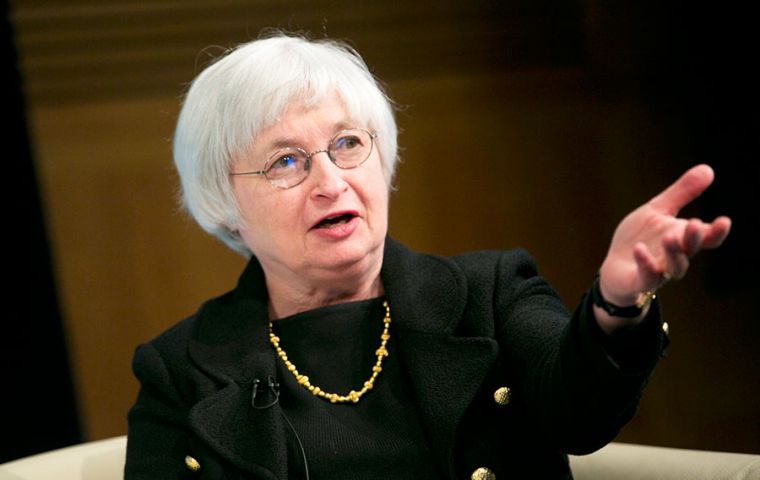 The United States Federal Reserve on Thursday left key interest rates untouched but acknowledged improved economic performance, suggesting a rate increase may be on the horizon in 2016.
The Federal Open Market Committee was almost unanimous with only Esther L. George voting against preferring to raise the target range for the federal funds rate to 1/2 to 3/4 percent. However policy makers had not been expected to raise rates, out of concern that a hike could stifle fragile growth.
Their improved view on economic conditions was therefore likely to raise market expectations for an increase in the benchmark federal funds rate, now at 0.25-0.50% by December, most probably after the US presidential election is over.
Despite weak job creation in May, the FOMC, which sets the monetary policy, said employment and economic growth had grown at a moderately since their mid-June meeting. They also appeared to see less threat to US growth from Britain's vote to leave the European Union, which took place a week after the June FOMC meeting.
"Near-term risks to the economic outlook have diminished," the FOMC said in announcing the outcome of the closely watched two-day meeting in Washington.
Inflation rate hawks and doves had been split at the June meeting over how strong the economy was, and voted nearly unanimously to hold off on raising rates.
The Fed has repeatedly said it wants to see increasing job growth and signs of stronger inflation, before it raises rates. While Wednesday's statement cited moderate increases and growth in employment and growth, it said inflation was expected to remain low in the near term.
As to determining the timing and size of future adjustments to the target range for the federal funds rate, FOMC said it will assess realized and expected economic conditions relative to its objectives of maximum employment and 2% inflation.
"This assessment will take into account a wide range of information, including measures of labor market conditions, indicators of inflation pressures and inflation expectations, and readings on financial and international developments", and in light of the current shortfall of inflation from 2%, FOMC will carefully monitor actual and expected progress toward its inflation goal.
FOMC expects that economic conditions will evolve in a manner that will warrant only gradual increases in the federal funds rate; the federal funds rate is likely to remain, for some time, below levels that are expected to prevail in the longer run.
Following Wednesday's announcement, the dollar was slightly weaker against the Euro at USD 1.1005. Bond yields were also marginally lower. Ten-year Treasury bills were trading at 1.52%, down from 1.54% prior to the FOMC announcement.