Rio Olympics cocaine: neat envelopes with the Games logo and rings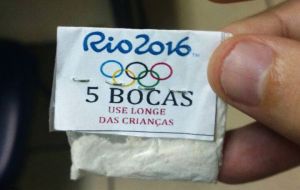 Rio Olympic Games scheduled to be opened in just a few days time is facing all sorts of last minute challenges, mainly because of lack of proper planning and shortcomings, but this has not impeded the so called "marvelous" city, known for its sculptural girls, beautiful beaches and easy going mood as well as crime, drugs and favelas, to adapt inventiveness to the festivity spirit.
In effect the Rio police in anti crime raids has come across cocaine and crack transparent envelopes, neatly presented, and with a tag adorned with the Olympics logo and a warning "Keep away from children".
According to the police report the envelopes were seized in the Lapa neighborhood, a tourist area full of restaurants, bars and night spots.
"We seized 93 cocaine and 28 crack envelopes, with the colored Olympic rings and several .40 caliber bullets", said the official police report.
The neat envelopes had a warning "Keep away from the children" and "Consume far from children" and what seemed like a registered brand "5 Bocas" (Five mouths).
Some of the envelopes had the word 'Cocaine' printed in the Coca Cola font.