Brazilian caipirinha: Rousseff impeachment and Olympics take off this week
Wednesday, August 3rd 2016 - 07:24 UTC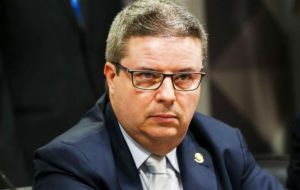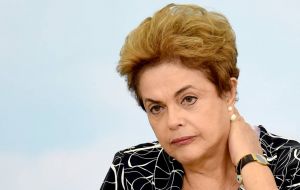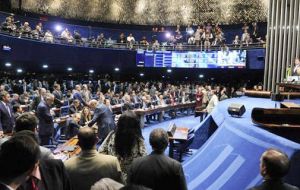 Brazil's long-running presidential impeachment drama starts to unveil this week just as the Rio Olympics sprints out of the starting blocks. Suspended Brazilian President Dilma Rousseff, who is accused of breaking budgetary laws, is staying away from the opening ceremony in Rio.
On Tuesday, impeachment committee official Antonio Anastasia got things started by recommending that the body back the process to remove suspended president Dilma Rousseff from office. The committee's vote is scheduled for Thursday, the eve of the Olympic opening ceremony.
Rousseff, who is accused of breaking budgetary laws, is staying away from the ceremony in Rio de Janeiro, saying she refuses to accept a "secondary role."
Instead, she will be left to digest the result of the Senate committee vote in the capital Brasilia.
The vote is non-binding, but it will send a loud message to the Senate plenary, marking yet another step to what looks increasingly like the end of Rousseff's presidency.
On August 9 -- a few days into the Olympics that were meant to showcase Brazil's growing economic power and political stability -- the full Senate will vote on whether to proceed with the trial. A simple majority would suffice and the measure is expected to pass easily.
Then a final and decisive session in the full Senate is scheduled for August 29, a week after the Olympics close in Rio, when a two-thirds majority is required to eject Rousseff.
Anastasia was clear about what should happen. "I vote for the accusation to go ahead," he said in his report Tuesday, calling the case against Rousseff "undeniable."
Ana Amelia, from the conservative PP party anticipated she predicts the committee will vote 16 to five on Thursday in favor of pushing Rousseff's case along.
With Rousseff swept aside to await her fate in the Senate, it's her former vice president Michel Temer who will preside over Friday's Olympic opening ceremony.
Since taking over as interim president when Rousseff was suspended to face trial in May, Temer has taken the government sharply rightward.
With Brazil in its worst recession for decades and crippled by corruption, Temer says the country needs to leave 13 years of populist rule by Rousseff's Workers' Party behind. She, however, accuses Temer of manipulating the impeachment process to mount a coup.
The political mess makes a sad backdrop to the Olympics that were awarded to Rio in 2009 when Rousseff's predecessor and political mentor Lula da Silva was hugely popular.
Now not only Rousseff is facing oblivion, but Lula is set to go on trial for obstruction of justice charges. He also faces corruption allegations that could sink his hopes of returning to power in 2018 elections.
The combination of Olympics and impeachment "is the picture of a Brazilian tragedy. It's the end of the myth created by Lula," said Ricardo Antunes, a sociologist at Unicamp University in Sao Paulo.
A large majority of Brasilia watchers expect Rousseff to not survive the final judgment vote, with senators easily reaching the required two-thirds majority, or 54 out of 81 votes.
"This is the end of the road and the Workers' Party knows it," Amelia said.
Many, including former supporters, believe Rousseff's downfall is the inevitable result of her presiding over a declining Brazil. The Olympics do nothing to change that perception.
"The governments of Lula and Rousseff created huge expectations when they began in 2003 and now it's a sad situation in 2016. The Olympics today are a mixture of farce and a bit of comedy," Antunes said.
Temer, meanwhile, is maintaining a relatively low profile as he prepares to take over on a formal basis. Asked by foreign journalists recently if he sees the Senate mustering enough votes to oust Rousseff, he replied calmly: "So they tell me".