US 'Dream team' rented cruise liner "Silver Cloud" as their Olympic Village
Wednesday, August 3rd 2016 - 07:12 UTC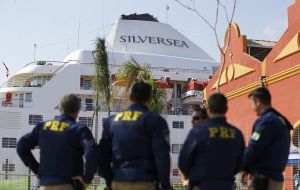 Multi-millionaire members of the US Olympic basketball team have rented a massive luxury cruise ship to call their home while they compete at the Rio Olympics. Super rich members of the 'Dream Team' are shirking the nightmare of the Olympic Village, still undergoing finishing touches in some areas and likely to remain "under construction" throughout the games in others. Members of the women's team are also reported to be calling the cruise ship home.
Cruise liner Silver Cloud is moored in the Port of Rio, with NBA stars like Kevin Durant, Carmelo Anthony and Kyrie Irving among others shifting their luxury cabins to the port side for better views.
Only meters from the boat's starboard side, busy crews work tirelessly to complete construction of Olympic venues – slowed all the more by their unattended toolboxes triggering security scares.
The boat is cordoned off, with police on sea and land patrolling the area, armed and ready to ensure the superstars' safety. A security barrier boasting bulletproof glass surrounds the mooring, with 250 of Brazil's federal police officers in sentinel in front of that.
"Nobody can get near the boat without invitation," one security official warned. Their poorer fellow Olympians meanwhile have to endure the sorry state of the Olympic Village dwellings, which includes breaking lifts, broken tiles, poor lighting and thievery.
Typically Olympians have to share their rooms, but the NBA stars can enjoy sun decks, gambling facilities and large comfy beds in their own private rooms.
Unlike his American colleagues, fellow NBA player and member of the Australian Olympic team Andrew Bogut will be living in more humble digs with his fellow Australians.
The Dallas Mavericks player, reported to be Australia's richest sportsman with a worth of US$16 million, posted a crestfallen photo of himself assembling his own shower curtain at the Olympic Village.
Putting together a shower curtain so we can shower and not flood the place," he wrote with a pic of the assemblage.
Having spent the week dealing with actual problems in the village, Australia's chef de mission Kitty Chiller shot down the 31-year-old's cheek with some equally Aussie banter of her own.
"I think he's the best man to fix the shower curtain because he's exactly the right height, and I'm going to call on him to come to my room straight after this press conference," she said.
Chiller also allayed concerns the string-bean b-baller's legs and feet might over shoot the length of the bed. "He's got a big bed. He has a lovely mosquito net over it as well. He's like a princess in his bed," she said.
Alone, the sports related costs of the Rio Olympics have already been estimated to be US$5.4 billion, officials said. However the average monthly wage in Brazil is estimated to be just shy of US$800, according to Trending Economics and there were around 10.4 million people in 2013 living below the poverty line – less than US$2 a day – according to World Bank data.