RMS St Helena schedule extended another year until airport is ready for commercial flights
Thursday, August 4th 2016 - 22:09 UTC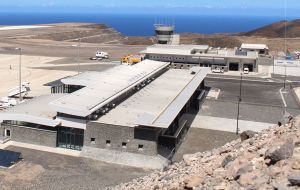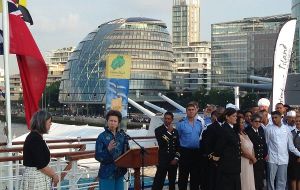 RMS St. Helena, one of the last Royal Mail Ships in the world is to continue serving her remote South Atlantic island namesake until 1 July 2017, the St Helena Government has announced. The RMS passenger and freight service will continue to operate between Cape Town, St Helena and Ascension Island with the extended schedule confirmed by the island's director of tourism.
The extension of the RMS St Helena service also allows the island more flexible planning as it prepares for the introduction of commercial flights to the island.
Plans for the airport hit a snag as wind testing proved unsatisfactory. Currently the airport is open for private flights and medical evacuation services.
Seen by many as an integral part of a visit to St Helena, the voyage takes five days by sea from Cape Town and affords the opportunity for passengers to embrace a slower pace and become immersed in island life before stepping foot on the rocky outcrop.
The RMS St Helena marked 26 years of service this spring with a farewell visit to London.
Currently the RMS St Helena is the only regular means of access to the UK Overseas Territory of St Helena, and has been granted a year's grace whilst islanders await the start of commercial flights to the newly built St Helena Airport.
A team from Flight Calibration Services Limited (FCSL) arrived at St Helena Airport on 21 July, aimed at undertaking routine Calibration Flights in connection with the navigation aids at the Airport.
This after the St Helena Airport Project announced earlier this week that the Airport Code HLE has been designated for St Helena Airport by the International Air Transport Association (IATA).
When passengers will actually be able to fly to St Helena Airport on a commercially operated flight, however, is yet to be announced.
Although the airport was issued with an Aerodrome Certificate from Air Safety Support International (ASSI) in May this year, and Comair has already announced it will be operating flights to and from the island from Johannesburg, technical issues and unsatisfactory testing has delayed the official take-off of commercial flights.
The 47sq mile island is in the middle of the South Atlantic, 1,200 miles off the west coast of Africa. Sailing from Cape Town, and on to Ascension, the RMS is the only means of travel to the outside world for residents, government employees and the occasional tourist – about 600 visitors arrive each year.
Tourism chief Chris Pickard said: "This provides the opportunity for anyone who felt they had missed out on experiencing life on board the RMS."
Napoleon was exiled to the island and died there in 1821. He was buried there but his body was moved to France in 1840.