Venezuela claims "the triple alliance" want to storm the Mercosur presidency
Sunday, August 7th 2016 - 20:39 UTC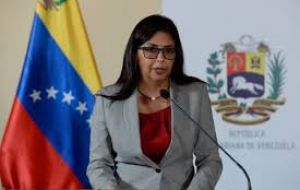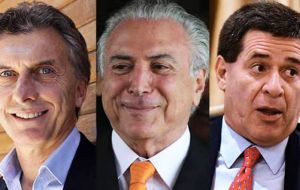 Venezuela announced it will not allow Argentina, Brazil and Paraguay, "the triple alliance" to storm the Mercosur pro tempore presidency, which the government of president Nicolas Maduro is fully exercising. Caracas also claimed that economic forces operating in the dark are interested in a Mercosur "implosion".
"We´re surprised the way they are trying to run over international treaties. Norms are very clear, the Mercosur pro tempore correspond in full right top Venezuela", said foreign minister Delcy Rodríguez, who called for "common sense" from the governments and peoples of the region.
"We are aware of the existence of economic forces operating in the dark who want an implosion of Mercosur and are interested in dismantling all the successes of Bolivarianism".
Ms Rodriguez categorically rejected "the triple alliance boycott speared by Argentina and Paraguay and the interim government of Brazil with the purpose of impeding the normal development in the Mercosur presidency, and regional integration, which Venezuela is fully exercising".-
Likewise it is very clear that "this attempt to storm the presidency of the block made up of Argentina, Brazil, Paraguay, Uruguay and Venezuela, has the support from Washington and the imperial seal".
This plan is spiced by the "anti-Bolivarian revolution regional tour by members of the empire", added the Venezuela minister in reference to US Secretary of State John Kerry visit to Argentina.
It is most "revealing" that the governments of the presidents from Argentina, Mauricio Macri, Brazil, Michel Temer, Paraguay, Horacio Cartes pretend "to dump Mercosur in an arbitrary intolerant, accelerated and with methods in violation of the rule of the law, because Mercosur is one of the most integrated blocks in South America".