US to provide Argentina with 24 state of the art T6-C Texan II training aircraft
Thursday, August 11th 2016 - 06:52 UTC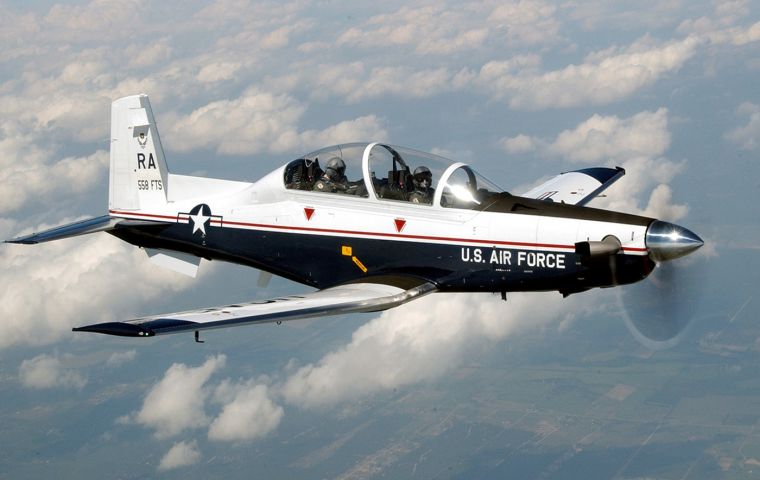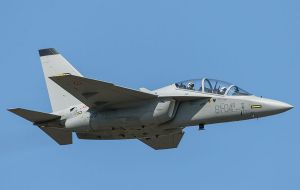 Argentina is in the process of purchasing 24 T6-C Texan II training aircraft from the United States, which will also be employed in border control and combating drugs. Apparently the operation has been approved by the US Defense Department and was one of several good news Secretary of State brought last week when he visited Buenos Aires.
The aircraft will be used for training pilots as well as in "border control missions, particularly the porous northern border of Argentina", according to the release announcing the operation with Beechcraft which will demand 300 million dollars.
The sale is considered a strong gesture to help cement bilateral relations between Argentina and the United States, launched by president Barack Obama when he visited the country last March upgrading deteriorated relations to almost a strategic partnership.
The training aircraft will also represent a strong material and morale boost for the depleted Argentine Air Force, which has very few units in flying conditions hampering the training of new pilots.
According to Buenos Aires reports, the president Mauricio Macri administration is also looking to replace the obsolete decommissioned French built Mirage with a light fighter plane, the Aermacchi M346.
Since taking office president Macri has repeatedly said that the Armed Forces have a "preponderant and participative" role to play in the three objectives of his administration, zero poverty, defeating the drugs trade and uniting Argentines. However members of the opposition question having the military involved in domestic security issues which is specifically banned by law.
The Beechcraft T6-C Texan II is a single-engine turboprop aircraft built by the Raytheon Aircraft Company, which became Hawker Beechcraft and later Beechcraft Corporation.
Based on the Pilatus PC-9, the T-6 has replaced the US Air Force's Cessna T-37B Tweet and US Navy's T-34C Turbo Mentor. The T-6A is used by the US Air Force for basic pilot training and Combat Systems Officer (CSO) training and by the US Navy and US Marine Corps for Primary and Intermediate Naval Flight Officer (NFO) training. The T-6A is also used as a basic trainer by the Royal Canadian Air Force; the Greek Air Force, the Israeli Air Force, and the Iraqi Air Force. The T-6B is the primary trainer for U.S. Student Naval Aviators. The T-6C is used for training by the Royal Moroccan Air Force, the Royal New Zealand Air Force and the Mexican Air Force.