Falklands/Malvinas: Malcorra confirms new dialogue with UK in a raft of issues
Monday, August 15th 2016 - 06:39 UTC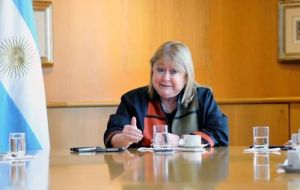 Argentina is at the beginning of a new dialogue on the Malvinas issue with the current UK government and this includes air links, hydrocarbons, identifying Argentine graves remains in Falklands, a possible meeting of the two countries' leaders in China, but none of this will happen overnight or make media headlines, anticipated foreign minister Susana Malcorra.
"We have a relation with the UK that goes beyond the Malvinas issue, but said this, Malvinas is a deep disagreement we have with the UK, and president Macri has told this to ex prime minister David Cameron on two occasions and I so spoke about it when I met in London with my peer Philip Hammond", said the Argentine minister in a weekend interview.
"We're at the start of dialogue with the new UK government and we anticipate the possibility of a top level meeting between president (Mauricio) Macri and prime minister Theresa May on the sidelines of the G20 meeting in China", added Malcorra.
Meantime Argentina believes there are possibilities of advancing on some issues that can help to distend certain aspects which "don't make sense".
Malcorra mentions in that respect the exploratory visit of the Red Cross committee to the Falklands to see what is needed to finally identify the remains of all Argentine combatants buried in the Islands but which remain under a cross that reads "Argentine soldier known only by God".
"There is an issue related to air links and it has been mentioned that we are doing some kind of swap with the hydrocarbons issue, but I can say they are not at all linked. There is a line of work about the possibility of flights (Falklands/Argentina), and this must be developed. UK is concerned about the Hydrocarbons bill, which to be honest, from a legal point of view has several points that should be reviewed" indicated Malcorra adding that all this will be addressed with responsibility, abiding the law and above all acknowledging that for Argentina the disagreement is a constitutional duty.
However none of this is going to happen overnight, "don't expect spectacular announcements for the media front pages, I'm convinced that there is a will to advance and restore the links of respect and confidence", concluded Malcorra's statement on the Falklands/Malvinas dispute.
Malcorra during the interview also addressed other points such as her UN Secretary General candidacy, "improving" and "top placed woman candidate", likewise there is no contradiction between Argentine foreign policy and her UN candidacy.
On Mercosur and Venezuela's self proclamation: there is no such thing as an automatic transfer of the presidency, but Uruguay committed a mistake when it announced the end of its six/month mandate and devolved the presidency. On Security and Defense cooperation with the US, Argentina is after a balance combating drugs and protecting the country's borders.
Finally Malcorra pointed out that some statements from president Macri describing the fight against the military dictatorship as "a dirty war", and not really knowing whether the dead of this asymmetrical confrontation were 9.000 or 30.000, were not necessarily appropriate but what the president meant to underline was the enormity of what happened in the seventies.