Brazilian flag flies at half mast in the Olympics in honor of Joao Havelange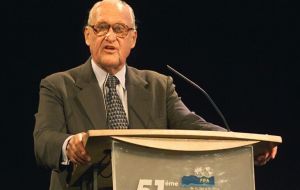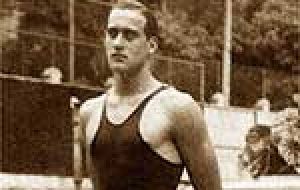 Former FIFA president and IOC member Joao Havelange has died aged 100. The Brazilian, whose name is one of those used for the track and field stadium for the Rio Games (Estádio Olímpico João Havelange), played a key role in bringing the Olympics to his country. He called on IOC members at the host city vote in 2009 to "join me in celebrating my 100th birthday'" at the Rio Olympics.
The Brazilian served FIFA from 1974 to 1998, the second longest term in the history of world football's governing body. Jules Rimet was at FIFA's helm for 33 years.
Havelange represented Brazil in swimming at the 1936 Olympics and water polo at the 1952 Helsinki Games. He was an IOC member from 1963 to 2011.
An IOC statement said: "Our thoughts are with the family and loved ones of Joao Havelange at this sad time.
"The IOC has agreed to a request from the Rio 2016 organizing committee to allow the Brazilian flag to be flown at half-mast during the day in Olympic venues."
FIFA has yet to issue comment on his passing.
Havelange is acclaimed for modernizing FIFA into a multi-billion dollar business, including expanding the World Cup from 16 to 32 teams, and developing the federation's commercial operations. But he also created a culture of favors and privileges for top officials that laid the foundation for his successor Sepp Blatter's corruption-tarnished reign.
Havelange's reputation took a nosedive in 2011 when, at the age of 96, he was forced to resign from the IOC. In 2013, he quit as honorary president of FIFA over the ISL bribery scandal. In doing so, he avoided any investigation or punishment from the sports' governing bodies.
Along with former FIFA Ex-Co members Ricardo Teixeira and Nicolas Leoz, Havelange was found to have taken millions of dollars in illegal payments throughout the 1990s from the former marketing partner of world football's governing body.'
Havelange received at least US$1.5 million in kickbacks from ISL, according to the findings of an investigation which followed allegations made in a BBC Panorama program about Havelange and his son-in-law Teixeira's involvement in the bribery scam. The bungs allowed ISL to secure TV and marketing contracts in the 1990s.
A FIFA ethics probe cleared Blatter. The report of ethics committee chair Hans-Joachim Eckert labeled the FIFA president as "clumsy" for not being aware of the illegal payments.
"It must be questioned, however, whether President Blatter knew or should have known over the years before the bankruptcy of ISL that ISL had made payments to other FIFA officials. President Blatter's conduct could not be classified in any way as misconduct with regard to any ethics rules," Eckert's report said.
Blatter, the disgraced former FIFA president, was suspended last year by FIFA's ethics committee amid a criminal investigation by Swiss authorities over a scandal involving a "disloyal" $2.1 million payment to UEFA president Michel Platini. An eight-year ban for ethics violations was later reduced to six years. On Aug. 25, Blatter will appear at the Court of Arbitration for Sport to appeal his six-year ban from football.