In last-ditch attempt Rousseff promises to advance elections if she's not impeached
Wednesday, August 17th 2016 - 03:07 UTC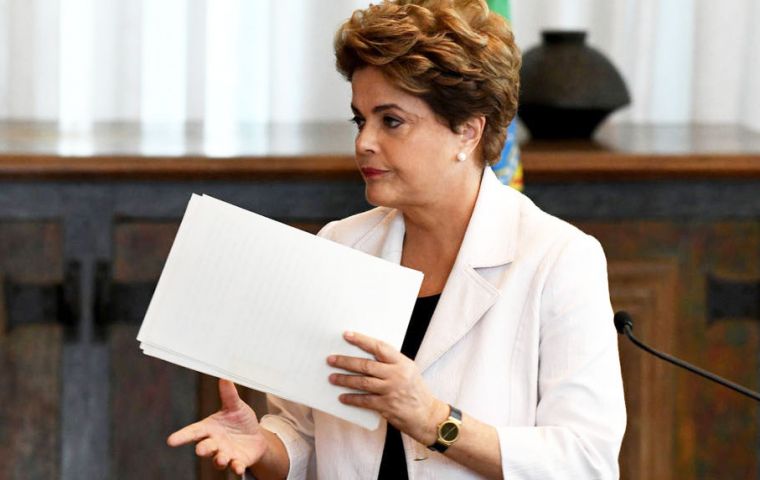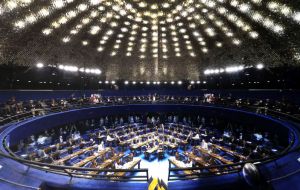 Brazil's suspended president Dilma Rousseff, on Tuesday pledged to open the door to an early general election if she survives an upcoming vote in the Brazilian Senate on ousting her less than half-way through her second term.
The proposal to hold a referendum on moving up the date of the next presidential election - currently set for October 2018 - was part of a "Letter to Brazilians" presented ten days ahead of the final phase of the process that could lead to Rousseff's permanent removal.
Dilma was suspended May 12 after the lower house of Congress voted to impeach her on accusations of manipulating budget figures to disguise the size of the deficit.
Though some of the Senate's own experts questioned the factual basis for the charges, the opposition-controlled chamber has pressed forward with a trial.
Insisting again on her innocence, Rousseff said Tuesday that a Senate vote to cut her term short would constitute a coup. The way to resolve Brazil's political and economic problems is "through popular vote in direct elections," she said.
Removing Rousseff will require a two-thirds majority of the Senate, or 54 votes. Ten days ago, a vote on continuing the process against Rousseff passed by a margin of 59-21.
A decision by the Senate to acquit her would be a reaffirmation of the "democratic rule of law" that would in turn demand shaking up the political scene by advancing the date of the election, Rousseff said.
If the Senate ousts Rousseff, her term will be completed by interim Vice-President Michel Temer, who has been acting head of state since May.
In his time as interim president, Temer - himself under investigation for corruption - has pushed privatizations and sales of state assets, ideas that are strongly opposed by the majority of those who voted to give Rousseff a second four-year term in October 2014.