Uruguay ambassador summoned to Itamaraty after minister accuses Brazil of "bullying Mercosur presidency"
Wednesday, August 17th 2016 - 04:56 UTC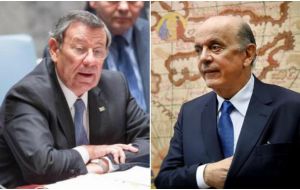 Brazil summoned Uruguay's ambassador on Tuesday after the neighboring country's foreign minister Rodolfo Nin Novoa accused Brazil of trying to "buy" its vote to block Venezuela from taking the rotating presidency of the Mercosur trade bloc.
In comments to the foreign affairs congressional committee last week that were made public on Tuesday, Nin Novoa said his government was "angry" with Brazil's "bullying "attempt to prevent Caracas from leading the regional group that also includes Argentina and Paraguay.
Brazil Foreign Minister Jose Serra "came with the intention of blocking the handover [of the presidency] and if that happened they would take us along in trade negotiations, as if they wanted to buy Uruguay's vote," Nin Novoa said underlining he was making public the 15 July discussion since Serra mentioned it to the media in Montevideo.
In effect Serra said that Brazil was planning a major trade offensive in Africa and Iran and was willing to invite Uruguay as a partner (not the rest of Mercosur), but asked in exchange suspending the group's transfer.
"This attitude deeply disappointed president Tabare Vazquez and quite a bit the foreign minister", revealed Nin Novoa who added that Vazquez told Serra Uruguay was going to comply with Mercosur norms, and will proceed with the transfer process.
The minister pointed out that "Venezuela is the legitimate occupant of the pro tempore chair and thus when they convene a meeting the Uruguayan government will attend". Nin Novoa emphasized Uruguay will be present and "if the others don't attend it's their responsibility".
Nin Novoa insisted that the other Mercosur members were appealing to other "eminently political" arguments with the intent of "bullying the Venezuela rotating presidency, that is the plain truth: they insist in eluding legal aspects and Mercosur norms". However he did point out that Uruguay is determined "to save Mercosur".
The Brazilian foreign ministry summoned Uruguay's ambassador in Brasilia, Carlos Amorin Tenconi, to explain Nin Novoa's comments. "The Brazilian government received with a profound discontent and surprise the statement from Chancellor Nin Novoa," Brazil's foreign ministry said in a statement.
The leadership spat in the group has raised tensions and opened ideological fault lines in a region struggling with a drop in commodity prices and political turmoil.
Since Brazil's President Dilma Rousseff was suspended in May, her replacement Michel Temer has moved the country away from populist allies such as Venezuela and toward traditional allies the United States and Europe.
Argentina and Paraguay, once close allies to Caracas, have also moved to undermine Venezuela as the administration of president Nicolas Maduro struggles with economic and political crises.
Venezuela was supposed to assume the rotating presidency of the bloc for six months, but Brazil and Paraguay claim the country has failed to fulfill the requirements to become a full member. Nevertheless, following on Uruguay's devolving of the presidency, Venezuela self proclaimed itself to the rotating pro tempore presidency.
Rousseff and her predecessor Lula da Silva supported Venezuela's former President Hugo Chavez and his successor Nicolas Maduro, who took office when Chavez died in 2013