Argentina points to Uruguay for causing a "vacuum" in Mercosur and the current situation
Friday, August 19th 2016 - 10:11 UTC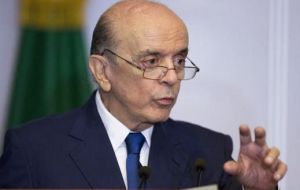 Argentina considers that Uruguay created a "vacuum" in Mercosur when it unilaterally adopted the decision to devolve the block's presidency, and creating an unprecedented situation. Since then Mercosur has been involved in a serious controversy over the transfer of the presidency to Venezuela, which has strongly discredited the South American block.
"What's going on, as we see it, it that regretfully there has been a process in which Uruguay decided unilaterally to end its Mercosur pro tempore presidency and this has created a limbo, a vacuum" said minister Susana Malcorra in reference to president Tabare Vazquez administration decision to hand over the post having completed its six/month mandate.
"All along we have said that the rotating pro tempore chair has a transfer process which includes the formal presentation of the outgoing president of its six month report and how it was preformed. This did not happen and for us it is a serious governance problem for Mercosur", added Malcorra.
The minister added that there has not been a single Mercosur presidency transfer which has not been done in the framework of the Common Market Council, which brings together foreign and finance ministers in coordination with the two annual presidential summits.
According to Malcorra, Uruguay should have waited before making a decision. "I think the best would have been, before sending the letter announcing the end of its presidency, to attempt a compatible format of exit to the situation".
As a consequence Mercosur is going through one of its worst moments since it was launched in 1991, if any only comparable to that in 2012, when Paraguay was suspended following the removal from office of populist president Fernando Lugo. At the time in an incomplete summit, Argentina, Brazil and Uruguay decided the incorporation of Venezuela as full member. This despite the fact that Lugo was impeached and ousted by the Senate following the Paraguayan constitution procedure, and ignoring that all decisions of the group are by consensus with the participation of all its members. In this case, Paraguay had been suspended.
Under the alphabetical order in the second half of 2016, Venezuela should have been transferred the rotating pro tempore presidency of the group, but Brazil, Paraguay and Argentina are opposed to such a move.
Brazilian foreign minister Jose Serra said plainly on Wednesday that his country believes Venezuela "is an authoritarian regime and non democratic, and a country that holds political prisoners can't be described as a democratic country".
"You can be sure that Venezuela will not be holding the presidency" he underlined.
Likewise Paraguay has asked Venezuela to set opposition leaders free and accused the regime of president Maduro of trying to block and disband Parliament appealing to a controlled Justice system.
Argentina is calling for a collective presidency of Mercosur for the rest of the year until January when under the rotating system is entitled to lead the group. President Mauricio Macri has been particularly critical of the human rights situation in Venezuela.
Uruguay is the only member which believes Venezuela should hold the chair of Mercosur and accepts president Maduro's decision, which self proclaimed the group's presidency. This despite the fact that the other three members do not recognize such decision and will not accept any decisions taken by Venezuela.
Maduro has counter attacked calling Brazil, Argentina and Paraguay "the triple alliance of South America's torturers", has called the interim government in Brazil "an imposed dictatorship", called Macri a "failed rejected president" and the administration of president Horacio Cartes in Paraguay "a corrupt and narcotics dealer oligarchy".
In the midst of this chaotic controversy, Uruguay's foreign minister Rodolfo Nin Novoa said in a hearing before the Legislative that Brazil had attempted "to buy" Uruguay's support and reject the chair transfer to Venezuela, in exchange for joining Brazil in trade missions to third countries.
Uruguay's ambassador in Brasilia was summoned and the Vazquez administration had to openly apologize and describe the whole situation as a "misunderstanding" from minister Nin Novoa. All this exchange in less than 48 hours with Nin Novoa stating the situation had been clarified.
Finally next week, 23 August a meeting of Mercosur coordinators is scheduled in Montevideo to try and overcome the situation. To the last meeting of this kind in July, Venezuela was not invited.