Trump overhauls campaign team to try and reverse poor opinion polls
Friday, August 19th 2016 - 10:39 UTC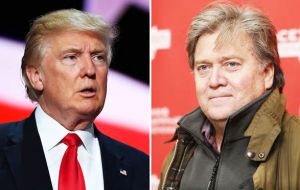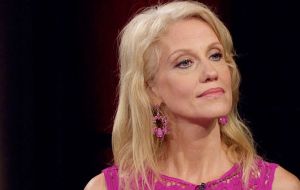 US Republican presidential candidate Donald Trump overhauled his presidential campaign team for the second time in less than two months, hiring the head of a conservative news website to bolster his combative image and try to reverse poor opinion poll numbers. Trump named Steve Bannon, head of the Breitbart News website, as campaign chief executive officer, a new position.
He also promoted senior adviser Kellyanne Conway to the post of campaign manager.
The latest shake-up combines Bannon, a conservative flamethrower, with Conway, a measured, data-driven analyst who might be able to broaden Trump's appeal to women and independent voters.
It offers Trump's team a chance to return to the "let Trump be Trump" style practiced by former campaign manager Corey Lewandowski that helped Trump, who has never held elective office, win the Republican presidential nomination for the Nov. 8 election.
Lewandowski, ousted in the last campaign reorganization in June, said on CNN that Bannon was "a street fighter" like himself. A Trump campaign statement announcing the changes touted a Bloomberg Politics article that branded Bannon "the most dangerous political operative in America."
Whether that style will work in the fight against Democratic nominee Hillary Clinton is unclear. Trump, a New York real estate developer and former reality TV host, has largely been unable to extend his reach beyond white middle-class voters who pack his rallies.
Trump trails Clinton in national opinion polls and in many battleground states, potentially facing a big defeat that could also cost Republicans congressional races.
Trump, who relishes revving up crowds with off-the-cuff remarks, drew criticism for comments insulting women, Muslims and Mexican immigrants during the primary campaign for the Republican nomination.
He has since faced a barrage of criticism from Republicans over his campaign style and his refusal to stick to a policy message. In particular, he has been rebuked for his prolonged feud with the family of a Muslim U.S. Army captain who was killed in the Iraq war.