A Mercosur/EU trade agreement will not include UK, warns European Parliament president
Wednesday, August 24th 2016 - 06:06 UTC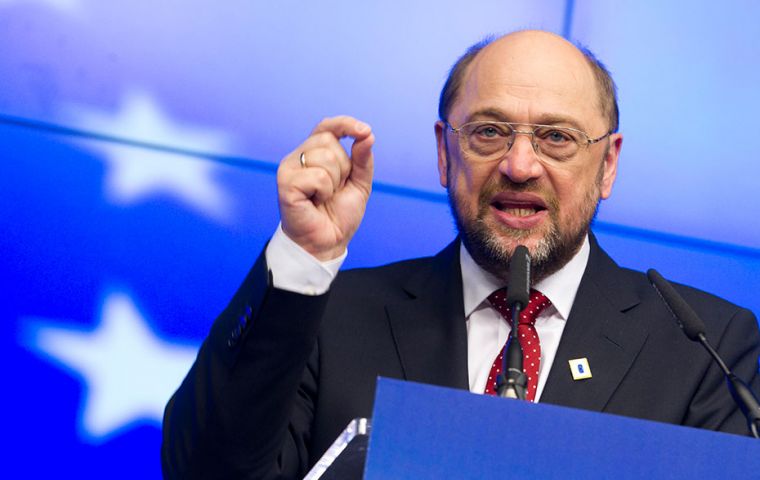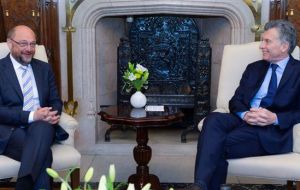 The president of the European Parliament Martin Schulz said in Buenos Aires that if finally a trade and cooperation agreement is reached between the European Union and Mercosur the United Kingdom will not benefit as a consequence of Brexit.
"If the EU and Mercosur (Argentina, Brazil, Paraguay, Uruguay and Venezuela) reach an integral agreement, the United Kingdom will not be part of the accord. This is a great disappointment, particularly for the UK", said the German lawmaker during a press conference in Buenos Aires.
In private talks with president Mauricio Macri and officials from the Argentine foreign ministry, Shultz said categorically that the EU/Mercosur discussions "will not be affected in no way, by the domestic situation" inside the South American block.
The issue was also pointed out by the Argentine deputy foreign minister Carlos Foradori who underlined that EU countries should not get involved in "unfavorable comments about the bilateral relations between the two blocks, since talks are continuing and there is a clear commitment from all founding members".
Venezuela is not included in the talks with EU, which are ongoing since 1999 and the fifth member only fully joined Mercosur in 2012 and still has to incorporate many administrative, political and commercial rules and rulings from the group.
Shultz also admitted that moving ahead with the Mercosur negotiations encounters difficulties and resistance from EU members, conditioned by their own interests and the fact it is a heterogeneous organization.
The European parliament president is on a South American tour which includes Argentina and Colombia.