Argentina unemployment in second quarter, 9.3%; first official data since Macri took office
Wednesday, August 24th 2016 - 07:25 UTC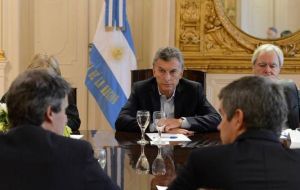 Argentina had 9.3% unemployment in the second quarter of the year, the government's Indec statistics agency said in a report on Tuesday. It was the first official unemployment data to be published by Argentina since Mauricio Macri became president in December.
Macri won office on promises of attracting foreign investment, in part by increasing transparency at Indec, which had been widely accused of fudging data to make the economy look better than it was under previous President Cristina Fernandez.
"Previous unemployment data are not included," Indec said in its second-quarter report. "We have established that unemployment reports from the first quarter of 2007 through the final quarter of last year should be considered with reservation."
Argentine GDP is expected to shrink 1.3% in full-year 2016 before rebounding to 3.2% growth in 2017, according to a central bank poll of analysts.
"It is obvious that we have a serious situation in the labor market," said Jorge Todesca, head the statistics agency.
The latest jobless number also highlights Macri's attempt to regain investor confidence in Argentina's economic data. Macri hired Todesca to head the Indec statistical agency and tasked him with reviewing and creating new indices for gross domestic product, inflation and unemployment after the International Monetary Fund sanctioned Argentina for manipulation of the statistics from 2008 to 2013.
So far, Todesca has put out new GDP figures that showed a recession that deepened this year and inflation that was running at 4.2% a month in May.