Argentine Supreme Court back to full strength with two Macri nominated Justices
Wednesday, August 24th 2016 - 09:01 UTC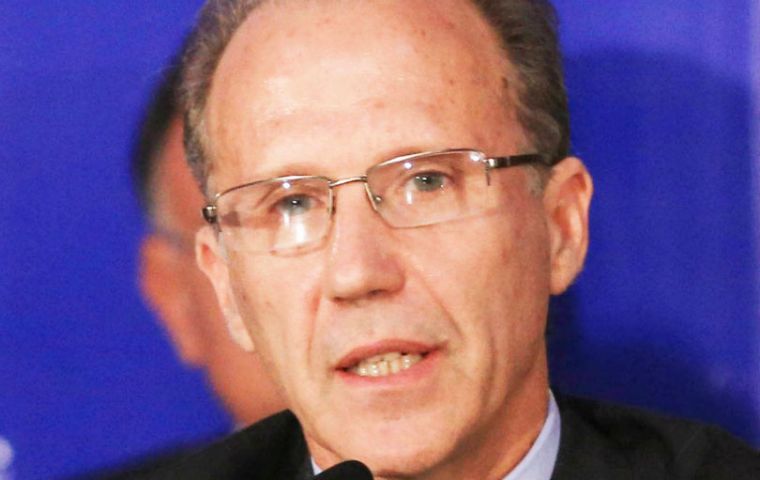 The Argentine Supreme Court is back to full strength with the inclusion of two Justices nominated by president Mauricio Macri. The Court had been understaffed for months following absences left by previous Supreme Court Justices Carlos Fayt and Raúl Zaffaroni upon their respective retirements.
The latest incorporation was that of Carlos Rosenkrantz, the second of two Justices confirmed by the Senate earlier this year, and who was officially sworn into his post on Monday during a ceremony held at Tribunales courthouse in downtown Buenos Aires City.
Rosenkrantz, who was controversially appointed by Macri along with Horacio Rosatti via presidential decree in December, 2015, became the fifth justice on the Supreme Court. After outcry over the appointments by decree, Macri backtracked and used the Constitutional process requiring Senate confirmation.
Rosenkrantz said that he would assume the responsibilities of the role "for the homeland and for honor" during the ceremony, which took place following the judicial recess period through July. Rosenkrantz — who was politically linked to the Radical (UCR) party during late former president Raúl Alfonsín's administration, having served as an adviser — received 58 votes in Congress, two votes less than his colleague Rosatti (late former president Néstor Kirchner's Justice minister).
The two main objections to Rosenkrantz's appointment was his having litigated for the Clarín Group against the State, and for having initially accepted this appointment as a Supreme Court justice via presidential decree.
Yet when opposition lawmakers questioned Rosenkrantz in the Senate Appointments Committee he was able to quell their concerns. "No judge can aspire to be a part of the court without the agreement of the Senate," he said during his lengthy examination hearing, which lasted for five hours.
Rosenkrantz, 57, is a lawyer who specialized in commercial and civil rights.
He was sworn in just days after a crucial decision made by the Supreme Court (including Rosatti) went against the Macri administration, after it voted to suspend price hikes to natural gas utility bills pushed by the government as "unavoidable" but met by fierce opposition from rival political parties and mass street protests.
Nonetheless, Rosenkrantz is seen by many as likely to be more sympathetic to Macri because his past is not linked to Peronism, the political force that dominates the main opposition parties in Argentina at present.