Central Italy's earthquake: 247 dead and counting fast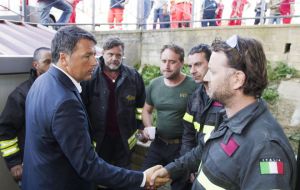 247 dead and counting, the death toll after the 6.2 magnitude earthquake in Central Italy today. It hit on a hot summer morning in the middle of a busy tourism season. Today rescuers continued to search for survivors on Thursday morning.
Accounts of lucky escapes and tragedies have emerged as communities struggle to cope with the aftermath.
Meanwhile, the European-Mediterranean Seismological Centre (EMSC) reported yet another 4.6-magnitude earthquake hit central Italy, some 66 km northeast from the town of Terni, with a population of over 220,000 people. It was the 22nd quake in the region in less than 24 hours.
The dramatic rescue operation continued overnight into the early hours of Thursday as scores of people are still believed trapped under the rubble. Thousands have been left homeless.
At least 86 victims come from the small towns of Amatrice and Accumoli that lie close to the epicenter of the quake, about 100 km from Rome.
Hundreds of volunteers are trying to pull out survivors.
Italian Prime Minister Matteo Renzi called on his fellow citizens to unite in the face of the tragedy, as he visited the most heavily stricken area.
Tents have been erected for hundreds of the now homeless residents, which will serve as temporary shelters.
Pope Francis ordered a small group of Vatican firefighters to Italy to assist local rescues, and canceled his weekly audience to conduct a prayer service dedicated to the victims of the calamity.
Many of the casualties from the quake are believed to be children.
Messages of condolences and support have been pouring in from all over the world.
US President Barack Obama also expressed his condolences in a phone conversion with his Italian counterpart Sergio Mattarella, and applauded the "quick action" in disaster relief efforts taken by Italy's rescue services.
German Chancellor Angela Merkel called the scope of devastation "shocking" and offered "the deep sympathy of the German people" to the victims in a message to Renzi.
French leader Francois Hollande echoed Merkel's statement, describing the quake as a "terrible tragedy" on Wednesday.
Britain's Queen Elizabeth II joined the choir of European leaders in a message of sympathy sent to President Matarella.
Russian President Vladimir Putin assured Renzi that Russia is ready to "provide all necessary assistance in relief of the consequences of this natural calamity," offering his condolences to relatives of the victims in a telegram.