Santos announces definitive ceasefire starting midnight Monday 29 August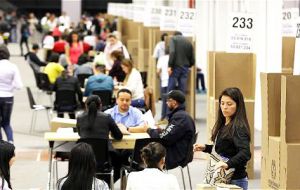 Colombian President Juan Manuel Santos ordered the army on Thursday to observe a definitive ceasefire with the FARC rebels after the two sides reached a deal to end their half-century conflict
"As head of state and commander in chief of our armed forces, I have ordered a definitive ceasefire with the FARC starting at midnight on Monday, August 29," he said in an address from the steps of Congress, where he formally presented the historic peace deal.
"The armed conflict with the FARC has ended," he said to applause.
The ceasefire order came after peace negotiators from the Revolutionary Armed Forces of Colombia (FARC) and the Colombian government announced Wednesday they had concluded a final accord after nearly four years of talks in Cuba.
The accord must now be ratified in a referendum on October 2 to take effect. The "Yes" camp must win a majority and gather a total of at least 4.4 million votes -- 13% of the electorate.
The United Nations, United States and European Union have all hailed the peace deal.
The government is still fighting a smaller rebel group, the National Liberation Army (ELN), whose ongoing kidnappings have derailed efforts to open peace negotiations. The Colombian conflict has killed an estimated 260,000 people, uprooted 6.8 million and left 45,000 missing.
In New York the U.N. Security Council is scheduled to meet Friday morning to discuss the United Nations' role in helping the Colombian government implement the peace deal to end a half-century of hostilities with leftist rebels.
"We're going to hear exactly what has happened, what now needs to be done by the U.N.," Britain's deputy U.N. ambassador Peter Wilson told reporters Thursday. "There is an important task ahead for the U.N. to assist the government of Colombia in implementing the peace agreement, which is a historic occasion."
U.N. special representative Jean Arnault is expected to brief the council on Secretary-General Ban Ki-moon's recommendations for the U.N. mission in Colombia, which is charged with monitoring and verifying a cease-fire and helping with the disarmament of the rebels.
Ban said earlier this month that the political mission will operate in 40 widely dispersed locations and require about 450 observers and a number of civilians.