Total inaugurates gas field offshore Tierra del Fuego with potential production of 10m cubic meters per day
Friday, August 26th 2016 - 11:44 UTC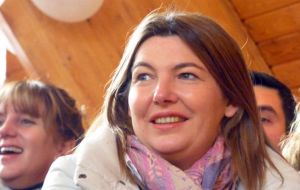 Argentina will officially inaugurate this Friday the Vega Pléyade natural gas field, twenty kilometers offshore Tierra del Fuego to the south of the San Sebastián bay. The field started production last February and as "a production potential of 10 million cubic meters per day".
The well is a joint operation which includes Total Austral, Wintershall Energy and Panamerican South is located in fifty meters deep water and linked to plants in Rio Cullen and Cañadón Alfa through a 77 kilometers submarine gas pipeline which has a diameter of 24 inches.
The ceremony will he headed by Tierra del Fuego governor Rosana Bertone and representatives from all the oil companies involved. It has not been announced who will attend for the Executive since president Mauricio Macri (who was especially invited) and his energy team are facing court actions repealing the latest gas rates increase.
Following a visit to the production rig the delegation of authorities will hold the official ceremony at the Cañadón Alfa plant.
Development of the field with operator Total is estimated to have demanded an investment of a billion US dollars, and the French company says the well has "a production potential of ten million cubic meters per day".
Under an agreement reached last November, and since the offshore field is partly in provincial and federal jurisdictions, 80% of royalties from Vega Pléyade will feed Tierra del Fuego treasury and the remaining 20% the federal government.