Rousseff claims impeachment is a new type of coup; street protests in her support
Tuesday, August 30th 2016 - 04:47 UTC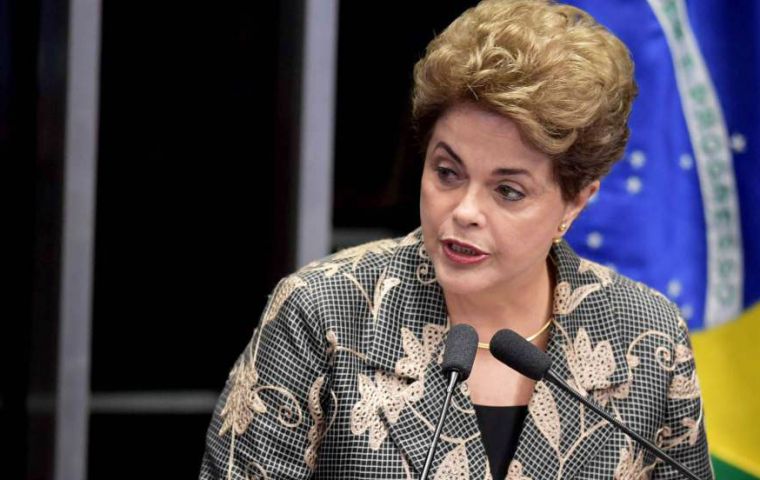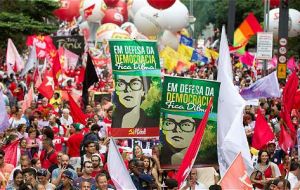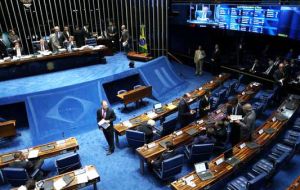 Brazil's suspended president, Dilma Rousseff, took the stand on Monday at her impeachment trial in the Senate, delivering a last-ditch defense to prevent her final removal from office. "Don't expect from me the obliging silence of cowards," Ms. Rousseff, 68, said in a withering attack on her opponents at the start of her testimony.
She argued that she was innocent of the charges against her — that she manipulated the federal budget to mask the extent of Brazil's economic problems — and described herself as the victim of a conspiracy to oust her.
Reflecting the rising sense of divisiveness in the country, protests against Rousseff's ouster emerged in various cities as she took the stand. Demonstrators shut down parts of Avenida Paulista, one of São Paulo's main thoroughfares, as Ms. Rousseff was grilled by senators on Monday night.
The vote on whether to convict Ms. Rousseff, who was suspended from office in May, is expected as early as Tuesday or Wednesday. Her opponents need two-thirds of the 81-member Senate, or 54 votes, to convict her.
If she loses the vote, as is widely expected, Michel Temer, the interim president and former vice president, will be president until the end of the current term in 2018.
Ms. Rousseff compared her plight to those of other Brazilian presidents hounded by their opponents, including João Goulart, a leftist toppled in a military coup in 1964 that opened the way for a 21-year dictatorship.
In her testimony, she also compared the impeachment effort to the suffering she endured in her youth, when agents from the dictatorship arrested her for her involvement in an urban guerrilla group. She was tortured while she was imprisoned in the early 1970s.
Ms. Rousseff said the impeachment proceedings amounted to a new type of coup, evoking the rupturing of Brazilian democracy in the 1960s.
Responding to that assertion, Senator Ana Amelia Lemos, an opponent of Ms. Rousseff's, expressed respect for the leader's personal history. But Ms. Lemos also insisted that Ms. Rousseff had broken the law by manipulating the budget to conceal mounting economic problems.
"We're not here to judge your biography, but rather the actions practiced in your government," Ms. Lemos said.
Ms. Rousseff contended that she had done nothing illegal.
"If the political contract with the people is broken, then any contract can be broken," Ms. Rousseff said, arguing that her ouster would heighten the risks of investing in a country where presidents can be toppled with ease.
Of the four Brazilian presidents elected to office since democracy was reestablished in the 1980s, she is the second to face impeachment. In 1992, Fernando Collor de Mello resigned before the Senate could convict him on corruption charges.
Collor de Mello resurrected his political career and is among the senators trying Ms. Rousseff, despite being under investigation over claims of pocketing huge bribes in the graft scandal around the national oil company, Petrobras.
Rousseff alluded to the fact that she remains rare among major Brazilian political figures: She has not been accused of illegally enriching herself, in contrast to a wild array of legislators seeking her ouster. "This process," she said, "has been marked from start to finish by a blatant misappropriation of power."