China expects G20 summit confirms its world standing, but admits vulnerable flanks
Wednesday, August 31st 2016 - 13:54 UTC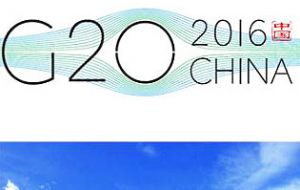 China is hoping to cement its standing as a global power when it hosts leaders from the world's biggest economies this weekend, but suspects the West and its allies will try to deny Beijing what it sees as its rightful place on the international stage. Ensuring that this does not happen will be one of President Xi Jinping's priorities, and a key mark of how successful China will judge the G20 summit to be.
Beijing wants to use the Sept 4-5 meeting in the tourist hub of Hangzhou to lay out a broad strategy for global growth, but talks are likely to be overshadowed by arguments over everything from territorial disputes to protectionism, diplomats said.
"From where China sits, it looks like the Americans are trying to encircle them," said a senior Western envoy, describing conversations with Chinese officials ahead of G20 as being dominated by the South China Sea row and an advanced U.S. anti-missile system to be deployed in South Korea.
In recent months, China has been incensed by a ruling against its claims in the South China Sea by an international court, a case initiated by Manila but blamed by Beijing on Washington.
While China wants to make sure its highest profile event of the year goes off successfully, Xi will be under pressure at home to ensure he is strong in the face of challenges to his authority on issues like the South China Sea, going by reports in state media.
China has already made clear it does not want such matters overshadowing the meeting, which will be attended by U.S. President Barack Obama, Japanese Prime Minister Shinzo Abe, UK Prime Minister Theresa May and other world leaders.
State media has given great play to the idea that G20 is for China to show leadership in shaping global governance rules and forging ahead with sustainable global growth, with the official People's Daily saying this could be one of the G20's most fruitful ever get-togethers.
"Let's make cooperation ever higher," it wrote in a commentary last week.
But the state-run Study Times wrote in mid-August that Western countries were trying to deliberately exclude a rising China and deny it a proper voice on the world stage with schemes like the U.S.-led Trans-Pacific Partnership.
"Trying to get back their right to global governance, they are forging a new 'sacred alliance', striving to establish new rules," the influential paper, published twice a week by the Central Party School, wrote in a G20 commentary.
Overseas, China has been angered by questions raised by Britain and Australia over strategic Chinese investments in their countries, saying it smacks of protectionism and paranoia.
Australia has blocked the US$ 7.7 billion sale of the country's biggest energy grid to Chinese bidders, while Britain has delayed a US$24 billion Chinese-invested nuclear project.