Rousseff's fate has been decided: Senate will make it formal on Wednesday
Wednesday, August 31st 2016 - 03:43 UTC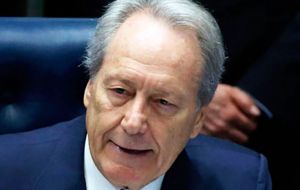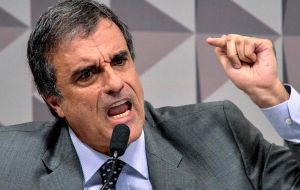 The Brazilian Senate heard for the last time on Tuesday the arguments of the defense and prosecution in the impeachment trial of President Dilma Rousseff, and now prepares to issue its decision on the case.
In the final arguments, neither prosecution nor defense introduced anything new, but rather repeated allegations and rebuttals laid down throughout the trial, an approach that appeared unconvincing to some senators, most of whom said they have already made up their minds, and, according to surveys published in the local press, they decidedly favor Rousseff's impeachment.
First to speak was prosecutor Janaina Paschoal, who considered fully proved all charges against the president and demanded that the Senate impeach her. "Fraud has been proved," Paschoal said. "The senators cannot vote without taking into account that reality."
Rousseff, who has been suspended since May 12, is accused of bypassing Congress to alter budgets by decree and taking too long to reimburse state-controlled banks for funds used to pay for government programs, a delay that her opponents say amounted to taking out illegal loans from those institutions.
The president points out that those budget maneuvers were common practice under previous administrations and has slammed the impeachment drive as an attempted coup.
The defense attorney, former Justice Minister Jose Eduardo Cardozo, insisted that "a coup will have been executed" if Rousseff is impeached and blamed "a political and economic elite."
In a heated address, Cardozo maintained that the accusations "are so technical, so sophisticated and so confused that the vast majority of Brazilians don't understand what they're accusing her of."
According to her attorney, "she was accused" because she was reelected in 2014 "challenging the interests of those powerful people who wanted to take Brazil in a different direction" and because "she promoted investigations into corruption."
The attorney wound up his defense on an emotional note: "I pray to God that if she is sentenced, someday a justice minister will beg her pardon. Beg her, if she is still alive, or her grandchildren, if she has died. But let it be done, so that History honors this woman."
After the last arguments of defense and prosecution, it was the turn of the 81 senators, who may each speak for 10 minutes. This part will take some 14 hours and will not finish until after early Wednesday.
As established by Supreme Court Chief Justice Ricardo Lewandowski, who is presiding over the session, there will then be a recess until Wednesday midday, when the decision will be handed down.
In this final hearing, two senators in favor of sentencing Rousseff, and another two opposing her impeachment, will each have five minutes to present their arguments, after which the vote will be taken by means of an electronic system.
Removing Rousseff from the presidency will take a two-thirds majority of 54 votes.
The result will be known immediately and, once proclaimed by Lewandowski, Rousseff will either be out of power or, if absolved, will regain the presidency and will relegate the interim president, Michel Temer, to the vice presidency.
In his time as interim president, Temer - himself under investigation for corruption - has pushed privatizations and sales of state assets, ideas that are strongly opposed by the majority of those who voted to give Rousseff a second four-year term in October 2014.