Brazil central bank keeps rates unchanged for the ninth straight time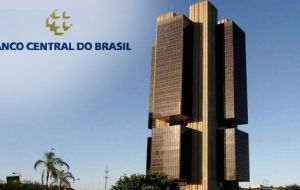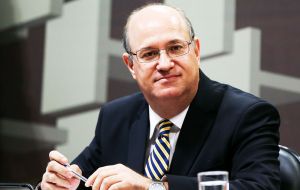 Brazil's central bank kept interest rates at a decade high for the ninth straight time on Wednesday, but did not discard a cut rate later this year if stubbornly high inflation subsides. In a unanimous vote, the bank's monetary policy committee, Copom, kept its benchmark Selic rate at 14.25%, its highest since July 2006.
In the usual release the central bank removed from its statement a previous reference to the lack of room to cut interest rates, but laid out the blueprint to lower borrowing costs.
"The committee judges that a loosening of monetary conditions will depend on factors that allow greater confidence on meeting the inflation targets at the relevant horizons," the bank said.
The bank highlighted a reduction in uncertainties regarding the approval of austerity measures and easing food inflation as key factors to flexibilize monetary policy. The bank also said it will monitor the effects high interest rates and a subdued economy will have on the pace of disinflation.
In the statement, the bank reiterated it aims to lower inflation to its target of 4.5% in 2017. The central bank, now with Ilan Goldfan as chair, has missed that goal since August 2010 after years of heavy public spending and consumption-based stimulus.
The country's stubborn inflation has raised worries among policymakers that it may threaten an economy they believe to be near a turning point as a political crisis eases and business confidence returns to Brazil. The bank's willingness to sketch out the conditions needed to lower interest rates was interpreted as a clear signal borrowing costs could be lowered later this year.
Lower inflation is seen by many economists as key to bolster consumer demand and shore up an economy that is showing its first signs of recovery. An increase in investment in the second quarter after 10 straight declines has raised hopes that the worst of the recession may be over, official data showed earlier on Wednesday.
With the most controversial aspect of the political situation behind, the approval of the reforms to cap public spending and reduce pension benefits should help the central bank in keeping a lid on inflation and lowering price expectations for coming years.