Argentina undergoing a values' change, says Macri; the time of messianic leaders is over
Tuesday, September 6th 2016 - 17:21 UTC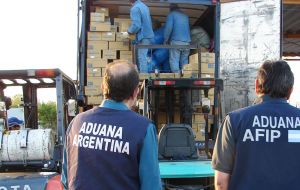 Argentine president Mauricio Macri said on Monday that the time of messianic leaders who hand to hand with lies denied reality is over, and pointed out that the country is undergoing a deep transformation, not only economic, but equally significant of values and success will be achieved if all Argentines understand this and put it into practice.
"It is my responsibility to implement the ideas to support these changes, cultural changes which are reaffirmed every day, but it depends on all Argentines" pointed out the Argentine leader before leaving the G20 summit in China.
He added that "the time of messianic leaders who hand in hand with lies denied reality, is over, and now it's our duty, of each of us to a maximum effort and to move forward", although admitting that change does not happen overnight.
"Clearly Argentina has been in recession for the last six months following on four years of stagnation, and to believe that we could "clean" the economy and have her back on its rails immediately is not possible", but Argentina has ceased to slide and we are seeing strong recovery buds in several areas, agriculture and public works. Macri forecasted the economy will expand 3,5% next year.
The Argentine president denied anything like a wave of firings in the labor market but admitted that somewhere between 70 and 100.000 jobs had been lost, but "gradually we are going to recover them".
Macri claimed that there is still lack of dialogue in Argentina, "let's be clear, nobody should believe they have the right to be mad, the right they have is to seat at a table and talk and dialogue". The president was referring to announcements of a possible general strike sometime next month, following a huge "federal march" in Buenos Aires to protest utilities rates hikes, prices and lack of jobs.
Finally he talked about corruption which was "far more extended" than anybody could imagine, "the State was split up among mafias", particularly in the Customs department and in public works.
"If there was extended corruption in a technical department such as public works with chartered engineers, what could you expect from other offices and departments". The same can be said of the Tax revenue office, AFIP and foreign trade statistics, "there's no way they match with our country partners, it was all part of the same package of corruption and lies that took over the country during the last decade".
"The deep changes under implementation are putting a limit to the mafia procedure inside government, and some understand changes are irreversible while others resist and thus the threats emerge", concluded Macri.