Falkland Islands census on Sunday 9 October; population was 2.840 in 2012
Saturday, September 10th 2016 - 15:09 UTC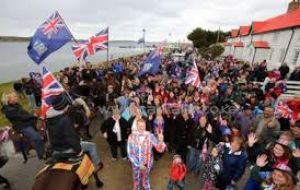 The Falkland Islands will be holding its national census on Sunday 9 October. The previous census in 2012, revealed that the Falklands population was 2.840, of which 75% lived in Stanley and 57% identified themselves as Falkland Islanders. Census happen every 5 years and participation in the Census is required by law.
According to the Falklands' government the Census can be completed online or by filling it out on a paper questionnaire. Everyone present in the Falkland Islands on the night of the Census must be included in the Census form. Only those people who are Armed Forces Personnel currently serving in the Falkland Islands and their dependants are exempt from participating in the Census.
In the week of 12th – 16th September, all known households in Stanley, Camp, and civilian occupied households at MPC will receive in the post a Census registration letter with instructions for registering your household to complete the Census, and to indicate whether you would like to complete it online or on a paper form.
If you are a resident in shared accommodation (for example Lookout Lodge, the YMCA or contractors' accommodation at MPC), you will not receive a household registration letter. The Policy Unit will contact the Managers/Landlords of this accommodation to organize Census registration.
If you have any queries about what the Census involves, need help registering or will need help to complete the Census, or if you haven't received a registration letter by Monday 26th September 2016, please contact the Policy Unit on 28421 or 28422, or by emailing census2016@sec.gov.fk.